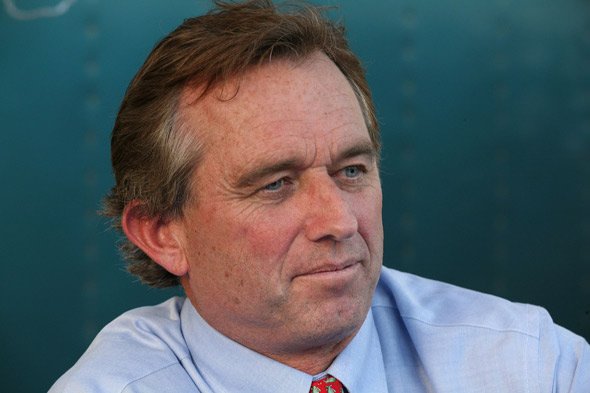 Robert Francis Kennedy Jr. is the son of former New York senator and U.S. attorney general Robert F. Kennedy. He is also the nephew of former President John F. Kennedy. He is a co-founder and president of Waterkeeper Alliance, an environmental protection organization focused on the preservation and conservation of water resources. Currently, he is the Chair of the board and the senior prosecuting attorney for Children's Health Defense.
Kennedy has been very active about the vaccines and its related issues. Explaining on what he thinks about the Centers for Disease Control and Prevention (CDC), here's what he had to say:
"The CDC is actually a vaccine company. The CDC had a total budget of about 11 billion dollars a year and 5 billion of that buying vaccines from those four companies and making "sweetheart" deals at a much higher where we pay taxpayer money much more for the vaccines than they pay for the exact same vaccine in Europe and then they distribute those vaccines in the American public. So their approving the vaccine, they're mandating for them for the public, they're buying them from these companies whom they're friends with and then they're basically forcing millions, probably 8 million people to take an untested product."
Robert Kennedy Jr. went on to explain that the CDC also owns many vaccine patents. According to him, the CDC, the Food and Drug Agency (FDA), and the National Institutes of Health (NIH), which regulates different parts of the vaccine industry, are all parts of the Department of Health and Human Services (HHS). He said that these agencies are allowed to have patents on the vaccines at their scientist's work and can collect royalties. He also claimed that officials of these agencies who work on the vaccines are also allowed to own part of the patent and can receive royalties of up to 150,000 dollars a year.
He went on to say:
"Every bottle of Gardasil that is sold, HHS is making money on it. They make tens of millions of dollars or the regulatory agency actually is making money by pushing and mandating these vaccines to people and then collecting money on it and ignoring the health effects when people are injured. And these are zero liability products. No matter how toxic the ingredient, no matter how negligent the company, you can't sue them. They can do anything they want with the vaccine and you can't do anything about it."
Explaining about how and why these things happen, he also went on to say that there are many 'revolving door' problems with the United States' federal and state agencies. He talked about this very well documented phenomenon called the "agency capture", in which the agency that's supposed to protect the American people from "bad drugs" or from pollution, "ultimately becomes a subsidiary or a suck-puppet for the industry that's supposed to be regulated".
Citing an example, Robert Kennedy Jr. said:
"Indeed, that's what we see with the CDC. The head of the CDC from 2002 to 2009 was Julie Gerberding, she did a number of billion dollar favors from Merck. She silenced a whistle-blower who was William Thompson, who's still a scientist at the CDC, who wanted to tell the public that testing of Merck's vaccine showed that, particularly the MMR vaccine was causing autism in black boys and other people who got the vaccine on time that the scientists have been ordered to destroy data showing that effect. And they went ahead and published this study, lying about it to the American people and to physicians. And Julie Gerberding did a huge favor to Merck by having that scientists punished and silenced."
Kennedy also added that Julie Gerberding helped a lot in making Merck the dominant company for the multi-billion dollar MMR vaccine and in blocking Glaxo-Smith Klein from selling vaccine to the US. He said that Gerberding approved Merck's Gardasil, the vaccine for HPV, and also its chicken pox vaccine while she silenced Gary Goldman, the whistle blower doctor who claimed that this vaccine will cause shingles epidemic. According to Robert Kennedy Jr., "Merck then not only got the chicken pox vaccine but it also was able to market a shingles vaccine. She (Gerberding) retired in 2009 and she was made president of Merck's vaccine division in 2010 with a salary of about 2.5 million dollars, I think about 5 million dollars at the stock option."
To listen to his full interview regarding the CDC, go to this link:
More references: