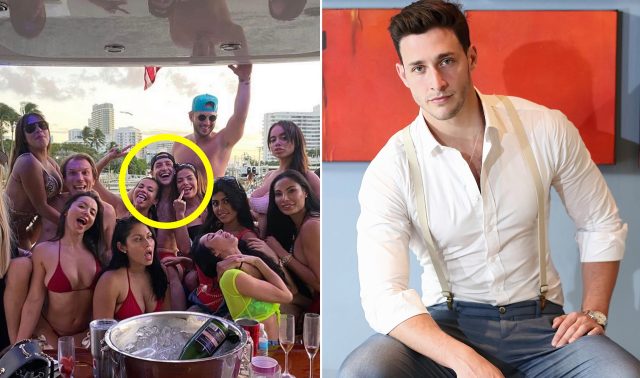 "Rules for thee but not for me."
A well-known doctor named Mikhail Varshavski, also known as 'Dr. Mike' online, has been massively called out recently after photos of him leaked the internet not wearing a mask and not practicing social distancing while having his 31st birthday party on November 12, surrounded by "bikini-clad women". Dr. Mike was called hypocrite even by his own fans for completely contradicting his own advice.
In a video, Dr. Mike was also seen "massaging a woman's neck on the deck of the boat while wearing a face scarf that isn't even covering his nose". Summit News reported, "Varshavski behavior is completely hypocritical given that he has repeatedly lectured others for ignoring social distancing and demanded mandatory mask laws to save lives".
Back in June, Varshavski tweeted:
"If by not wearing a mask you put other's lives at risk it might make sense to make it mandatory. Wouldn't you agree?"
After a month, Dr. Mike again stated on Fox Business:
"Wearing a mask decreases the spread of this virus and that is of utmost importance for people's health and the health of our economy. So please, if you're going outside in public and are going to be around other people, wear a mask…"
There was also a Youtube interview of Dr. Mike with Dr. Anthony Fauci in which he said that, "social distancing is incredibly important. That's how we control the spread of this virus." Varshavski told Americans to follow coronavirus protocols not only once but many times especially in the CNN and yet, he himself apparently did not care to follow.
"Do as we say, not as we do."
Meanwhile, just a week ago Bill Maher, a talkshow host at HBO, also criticized Democrat politicians and called them out for their shameless hypocrisy. Maher commented on his show 'Real Time with Bill Maher' regarding images of liberal politicians which recently surfaced the internet showing these leaders in public spaces without masks while also not social distancing. One of the politicians Maher specifically savaged was California Gov. Gavin Newsom as he violated his own coronavirus rules for the state. According to Bill Maher on his show:
"They keep getting caught doing what we're not allowed to do. Nancy Pelosi did, Lori Lightfoot did and now Gavin Newsom. He was at some sort of birthday party indoors…and at the table, there were lobbyists from the California Medical Association."
In September, a video of a woman tased and arrested after not wearing mask at Ohio football game went viral on the internet, left many users furious. In other countries, there are numerous reports of thousands of citizens being arrested for breaking coronavirus protocols. In India, Australia, and the Philippines for example, some incidents were pretty brutal in which it includes old men and women being beaten by police officers.
In August, Business Insider report that "between March 17 and July 25, Philippine police made 76,000 arrests, and recorded more than 260,000 violations of curfew or lockdown rules". The Philippines' Commission on Human Rights reported that "more than 900 complaints of these arrests involved torture, inhumane treatment, arrests, or detention".
Sources:
https://www.businessinsider.com/philippines-police-arrested-people-for-breaching-lockdown-2020-7
https://abc7.com/woman-arrested-for-not-wearing-mask-tased-because-she-wouldn't-put-on-a-face-logan-hocking-isd-alicia-kitts/6555132/
Featured image: https://sportsgrindentertainment.com/instagrams-hottest-doctor-slammed-for-partying-maskless/