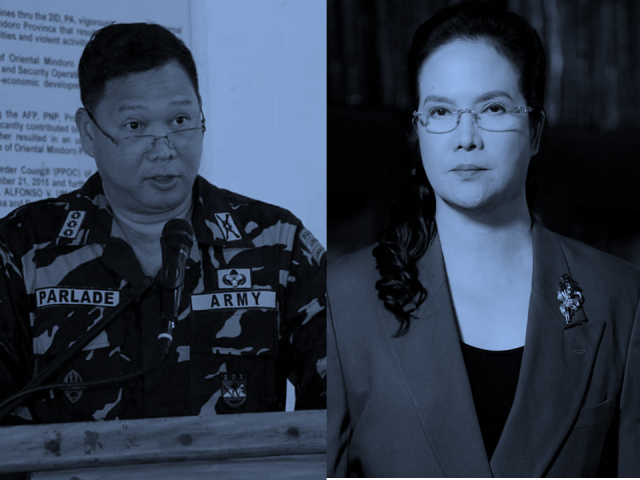 The former commander of the Armed Forces of the Philippines (AFP) Southern Luzon Command who retired last July 25 of last year and who is also the spokesperson for the National Task Force to End Local Communist Armed Conflict (NTF-ELCAC), retired Lt. Gen. Antonio Parlade Jr., wrote an article on January 28 in the country's very popular media outlet, The Manila Times, talking about the "horrors of vaccines".
Retired Lt. Gen. Antonio Parlade Jr., who served for 38 years in the AFP, questions why there is almost no public discussion during the past months about Republic Act 11525, the country's COVID Vaccination Bill, as many Filipino citizens are being forced, directly and indirectly, through local government ordinances to get the jab even though it is against their will and regardless of their religious or even their health reasons. Referring to why the vast majority of the Filipino public is ignorant about RA 11525, Parlade asked in his piece:
"How did we miss this very significant aspect of our law? Was it deliberately hidden from us?"
Parlade also questioned the absence of corporate accountability of the pharmaceutical companies producing the vaccines as this system is unethical on its own. According to him:
"…everything happened so fast that very few even noticed that our Bayanihan to Heal As One Act actually included a provision that exempts pharmaceutical companies from suit, for administering their drugs without a conclusive assurance about the safety of vaccine beneficiaries."
What's more controversial from the statements of this former high official of the Philippine military is his claim that more deaths from the vaccines are suppressed from being reported so that the people will not be alarmed. As he continued:
"They required the vaccine adverse effect reporting system (VAERS), contact tracing, among other things, in order to monitor the results and the spread, which is logical. But of late, there has been a lot of literature, laboratory test results and materials coming out that say previous protocols have been unable to control the spread of the virus. Apparently, the vaccine strategy is taking a 180-degree turn. More deaths are being reported among those vaccinated that some governments have stopped publishing the VAERS or the people would be alarmed."
Finally, Antonio Parlade Jr. also commented on the heavy censorship being done right now against the people, especially the popular ones, who are actively speaking out against the lies and the unscientific data being fed to us by the Department of Health (DOH) and other enabling government officials. Talking about facts regarding the current medical scam and about the vaccines, former Lt. Gen. Parlade stated:
"Government censorship of independent medical and expert reports became blatant in Europe and the Western world where freedoms and liberties are believed to be most alive and widely practiced. A lot of things do not align. The truth is being suppressed and these are coming from world-renowned experts in their field. These experts have been trying to give us the real score at great cost to themselves and now they are facing state persecution, some even death."
Meanwhile, another famous government personality has also spoken against forced vaccination currently happening in the Philippines. Persida Rueda-Acosta, the Public Attorney's Office (PAO) chief, pledged last week to help provide legal assistance to the people who experienced or who will experience discrimination for not having the vaccine. In one of her recent interviews, Atty. Acosta announced that the PAO office has already alerted their "2,500 lawyers", to get ready to give attention to the Filipinos who will need their help in countering human rights violations related to force COVID injection. She also commented:
"Confining individuals to their home just because they are unvaccinated is a violation of their rights…
Let us not discriminate against the unvaccinated. There is no mandate yet for the compulsory vaccination for Covid-19, there is no law yet….
If a person would not want to get vaccinated for Covid-19, that's his choice and that's his right because that is his own body given to him by God so he's the only one who can decide for himself…"
These statements by Antonio Parlade Jr. and PAO Chief Atty. Acosta about the unethical aspects of the country's vaccine administration are being echoed or supported not only by ordinary citizens but also by many Filipino health experts. For example, during a zoom conference organized by Concerned Doctors and Citizens of the Philippines (CDCPh), Dr. Marivic Villa, one of its members, has stated:
"It sounds like we have a mass hypnosis and psychosis that's happened. It's like we have this big noble lies that is dominating the narrative, lies about the safety and efficacy of the vaccines and it is being propagated by the very people who are supposed to protect us. Who are they? Politicians, healthcare authority, bureaucrats, and the media; they are perpetuating these lies. And how many of the masses are actually affected by this? If you are being bombarded every single day by these lies it becomes like the truth and a lot of this psychologically weak people who don't' have critical thinking, will be affected and they will believe this."
References: