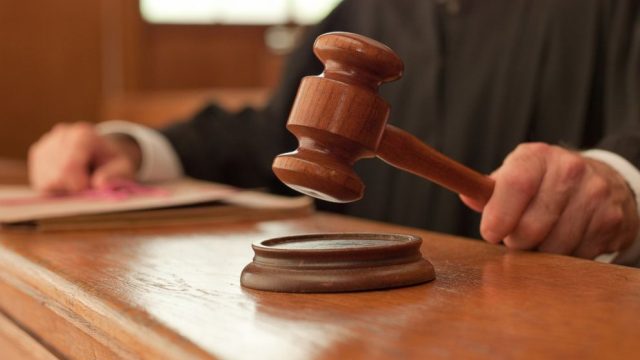 After months of trial, the judges of the International Common Law Court of Justice (ICLCJ) has announced on January 15, 2022 the verdict which sentences "seventy-five individuals, including top officials of pharmaceutical corporations such as GlaxoSmithKline (GSK) and Pfizer and of China and the Vatican, to life imprisonment, seizes their assets and disestablishes their corporations, and lawfully prohibits the further manufacture, sale, or use of their COVID vaccines as "products of medical genocide and mass murder". According to a report in murderbydecree.com:
"After a four-month trial convened under International Law, the judges of the International Common Law Court of Justice (ICLCJ) issued their historic verdict and sentence today, along with Arrest and Expropriation Warrants against the defendants. The convicted individuals include Albert Bourla and Emma Walmsley, the CEO's of Pfizer and GlaxoSmithKline Pharmaceuticals, Xi Jinping, President of China, 'Pope' Francis (Jorge Bergoglio), 'Queen' Elizabeth (Windsor), and Justin Trudeau, Prime Minister of Canada."
Two days after, January 17, protestors and sheriffs armed with ICLCJ arrest warrants "sought to detain the convicted felons Albert Bourla and Emma Walmsley, the CEOs of Pfizer and GlaxoSmithKline, at their homes in Scarsdale, New York, and Greenwich, England". It was also said by the same report that" both CEOs became incommunicado last weekend when news of their conviction was widely reported".
In addition to this, protesters are also halting COVID vaccine rollouts using the ICLCJ warrants, according to commonlaw.earth January 19 report. The warrants were said to "allow anyone to lawfully refuse the COVID shots without fear of reprisals, to confiscate the banned drug as a "product of genocide and mass murder", and to prosecute anyone who imposes the COVID injections". The report also continues:
"Yesterday, indigenous elders in Manitoba, Ontario and on Canada's west coast occupied reservation band offices and confiscated and destroyed the COVID 'vaccines', after issuing copies of the ICLCJ Warrants to the tribal police and RCMP. The police did not intervene.
Since Monday, and in more than a dozen communities across North America, Italy and England, Warrant-bearing protesters have shut down 'vaccination' centers and stopped the delivery of COVID shots to clinics and hospitals."
Calling for the public's participation, ICLCJ advisor Kevin Annett stated:
"These Warrants turn the table on the tyrants, and make giving and taking the COVID shots a crime…
We call on everyone to use these Warrants to not only defend themselves but put an end to the COVID Corporatocracy. The police have been asked to assist us in making arrests, seizing the 'vaccines', and restoring the rule of common law and justice in our communities."
ICLCJ keeps on educating the public and campaigning for global participation and mobilization of communities for refusing to take the vaccines, especially those which are manufactured by the big pharma corporations they've convicted with mass genocide and systemic murder. In different websites, people are sharing the links where the sentencing documents can be downloaded.
Meanwhile, ICLCJ Public Affairs Office stated:
"This case involves a monstrous, intergenerational crime and its equally massive coverup. The highest officials of Church, State, and Corporations have for years personally sanctioned and profited by the systematic torture, trafficking, and murder of children in deadly drug testing experiments to produce the COVID 'vaccine', as part of a Criminal Conspiracy to reduce humanity to slavery. That Conspiracy murders the innocent, traffics in arms, drugs, children, and human organs, and silences or destroys those who threaten to expose it.
Our Court has put a legal end to that Conspiracy by criminalizing the persons and the corporations responsible, and prohibiting the further sale and use of the COVID 'vaccines', which are the product of medical genocide and the mass murder of children.
Our warrants empower not only our Sheriffs and deputized police, but people everywhere to enforce the Court's verdict by arresting the convicted felons, seizing their assets, and halting the sale and use of the genocide-derived COVID 'vaccines…
The killers of children can no longer evade justice using executive or corporate privilege, or by hiding behind the camouflage of contrived public health crises."
Download the full court document here:
Meanwhile, just on December 2021, a group of experts and professionals in the UK filed a complaint at the International Criminal Court (ICC) against "Boris Johnson and UK officials, Bill and Melinda Gates, chief executives of Big Pharma companies, World Economic Forum (WEF) executive chairman Klaus Schwab, and others for crimes against humanity". The group that filed a complaint includes former Pfizer vice president Dr. Michael Yeadon, an astrophysicist, and a funeral director. Some of the defendants being charged with "war crimes and numerous violations of the Nuremberg Code" are Tedros Adhanom Ghebreyesus, director-general of the World Health Organization (WHO); Dr. Anthony Fauci; including "June Raine, chief executive of Medicines and Healthcare products regulatory agency (MHRA); Dr. Radiv Shah, president of the Rockefeller Foundation; and Dr. Peter Daszak, president of EcoHealth Alliance".
Life Site News reported:
"In the group's complaint filed December 6, they present evidence that COVID-19 "vaccines" are in fact experimental gene therapies engineered with gain-of-function research from bat coronaviruses, arguing that these "vaccines" have caused massive death and injury and that the UK government has failed to investigate such reported deaths and injuries; that COVID case and death numbers have been artificially inflated; that face masks are harmful due to hypoxia, hypercapnia and other causes; and PCR tests are "completely unreliable" and "contain carcinogenic ethylene oxide."
They furthermore argued that effective treatments for COVID-19 such as hydroxychloroquine and ivermectin were suppressed, leading to a greater death toll from COVID-19 than what should have occurred. They make the case that the lockdowns were enacted under the pretext of artificially inflated infection and death numbers from an engineered virus, as well as the experimental "vaccines", have resulted in:
Massive short-term damage and death, with at least 395,049 reported adverse reactions to COVID "vaccines" in the UK alone; a sharp uptick in ChildLine calls from vulnerable children during lockdowns; "destruction of wealth and businesses" through imposed lockdowns;" "severe deprivation of physical liberty in violation of fundamental rules of international law," including bans on travel and gatherings, and forced quarantine and self-isolation; apartheid due to segregation by vaccine passport possession; and "expected reduction in fertility" after "vaccination," among other harmful physical and psychological effects."
References: