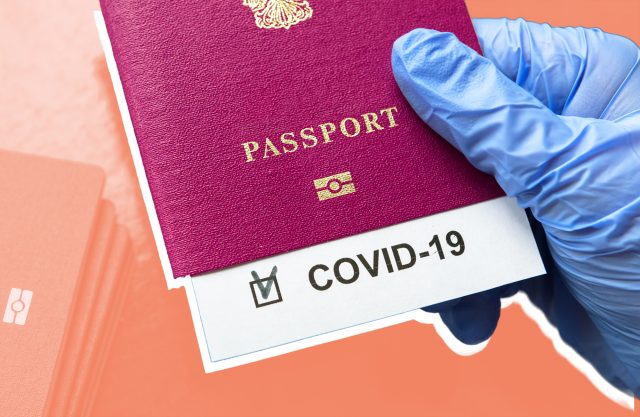 It is likely that a digital vaccination ID or passport will be mandatory in the Philippines this year. Authored by one of the country's senators, Grace Poe, the Senate Bill No. 1994 or "Vaccine Passport Act" is now one of the most popular topics in social media these days; receiving opposing responses from Filipinos, including the overseas workers. According to Senator Grace Poe:
"The certificate as proof of vaccination should be at no cost to the recipient…
The standard document that our people will carry as their badge of protection that they have been vaccinated should not make them spend extra money because every peso is precious especially during these hard times."
Poe also added that the vaccine digital passport "would be very effective" in getting a job both for domestic and overseas workers because the country "really need more workers". This would, according to the senator, "help expedite the return to work of overseas Filipino workers (OFWs) who were side-lined by the pandemic". She then continued:
"Our OFWs, when they leave to work abroad, the time will come when the passport will be a requirement — to show what vaccines you have. There are other types of viruses that might come and we need to get vaccinated. Let us be one step ahead."
Back on April last year, CBS published a lengthy interview of Bill Gates "predicting" that "things would only go back to normal once the people have the vaccination", "probably 18 months", according to him. Gates also stated:
"Our foundation works a lot on diagnostics and vaccines. Vaccine producers are the ones that can really get things back on track where we're not worried about large public gatherings."
The big question from many people, however, is that: is he (Gates) have hidden knowledge about the on-going COVID19 crisis and involved with manipulating the official data and controlling the narrative, along with other rich elites? Meanwhile on January 16, 2021, several independent media sources reported that authorities are conducting investigation on the death of 23 elderly people in Norway shortly after the administration of the Pfizer-BioNTech COVID19 vaccine. Aside from these deaths, there were also reports about people experiences severe reactions after receiving the first dose. Because of this, the Norwegian Institute of Public Health cautioned against vaccinating the elderly people, especially above 80 years old, saying that this vaccine "may not be beneficial" to them. They stated:
"For those with the most severe frailty, even relatively mild vaccine side effects can have serious consequences.
The agency listed fever and nausea as side effects which may have led to the deaths of some frail patients."
Because of these deaths in Norway, President Rodrigo Duterte scorned the Philippine senators who are choosing COVID-19 vaccines developed by Pfizer-BioNTech. This is not the only case against Pfizer and BioNTech. On December last year, reports about COVID19 vaccine severe impacts produced by Pfizer and BioNTech, including deaths, have also come out from the news. This is based itself on the Food and Drug Administrations' (FDA) "53-page briefing document that was released for the preparation for the emergency use authorization (EUA) meeting on December 10, 2020".
Also in December, an Indian news source reported that the COVID-19 vaccine developers Oxford-AstraZeneca have been exposed to have "link to the British eugenics movement". The report said that "the developers of the Oxford-AstraZeneca COVID-19 vaccine have previously undisclosed ties to the re-named British Eugenics Society as well as other Eugenics-linked institutions like the Wellcome Trust". Due to these inconsistencies, more and more people are now have become hesitant after getting informed about real vaccine science and other related issues. In fact, even Forbes reported just a few months ago that "large numbers of health care and frontline workers are refusing covid-19 vaccine". Therefore, it is completely normal to ask questions and find solutions to this problem instead of putting our lives and our future to other people's hands.
When this news about the vaccine passport bill reaches the ordinary citizens in the country through social media, many Filipinos reacted and stated their resistance to vaccination. According to one user for example:
"OFW's are not in favor of vaccine passport. Do not approve it. That's nonsense. The president said that vaccination is not mandatory. Why did you write that bill, Grace Poe? How can we travel again if we get harmed by the side effects of vaccines? So is it OK for you to take responsibility if something happens?
Please my fellow countrymen let's fight this vaccine passport bill so that it will not become a law. Because it will affect our children and our grandchildren. Covid vaccine is very dangerous just like Dengvaxia. So let's not allow them to fool us."
Meanwhile, another user also commented:
"Use your mind and think (Senator Grace Poe). Have mercy on poor people, what you're thinking is not right. Why do people need vaccine passport if they want to go back to the province? You're contributing to our suffering. You thought if your self so do it alone, don't include us with your plans."
Another one also questioned the irresponsibility of the leaders in higher positions:
"Why do people we've allowed in the positions are the ones taking our rights instead of protecting them? Our good lawyers are correct; we should fight for human rights. These people, including priests/religious leaders, have no fear in God who provided the "free will" himself. Think first before considering it (the bill) to become a law; it will send people to hell."
Another user also commented: "What kind of mind is that? You keep on making laws, all kinds of laws, which mostly doesn't make sense. It's only in the Philippines. It's making things more difficult." Then another one also commented that Filipino politicians should go first because they are "corrupt", making it so difficult for people to live a normal life. After that, another one also posted that the people behind the bill, especially doctors and politicians, are "smelling huge money" that's why they are "helping the pharmaceutical companies" to sell the vaccines at no matter what cost.
Lastly, another Filipino user commented that "a civil war will happen" if vaccinations will be made mandatory in the country; pushing the citizens to fight against the government. He then continued:
"The government and big pharma cannot fool the people now. So many of us have awakened to the truth of what's really going on now, especially in relation to the current global health scam. Vaccines are very dangerous to humans. No to vaccines, period!"
References/sources: