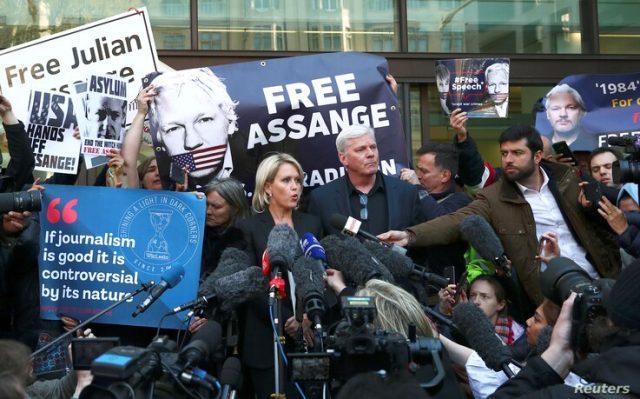 Tomorrow is the court's decision for Julian Assange's extradition to the US to face the charges against him by the US military for "espionage" and for "hacking" classified documents around 2010 and 2011, which expose corruptions and even gruesome war crimes being committed by some military personnel in Afghanistan and Iraq against their suspected enemies, which sadly includes civilians and journalists. Because of this, he was deemed by some US politicians as "high-tech terrorist" who had "done enormous damage to the US and its work with other nations". Even Hillary Clinton, the former US secretary of state, said:
"I think it is clear from the indictment that came out it's not about punishing journalism, it is about assisting the hacking of a military computer to steal information from the United States government."
If Assange's camp loses on the court, he could be charged with 175 years of imprisonment. But this could also mean another huge defeat for the press. In addition to this, during 2016, Julian Assange and his colleagues "published a series of hacked Democratic National Committee emails" which exposed "embarrassing" facts about the Clintons and the Democratic Party. Today, the Australian journalist and founder of Wikileaks Julian Assange is still being jailed in a UK prison.
But as a journalist fighting for freedom of the press for more than a decade, Assange is being supported by many high profile personalities from different parts of the world who signed a letter demanding the UK government prevent his extradition. These include politicians, big artists and celebrities, and journalists and even the leaders of the country Ecuador and Brazil. For example, Sarah Palin, the former Republican US vice presidential candidate, has stated earlier in December that Assange "should be pardoned". Palin said on social media:
"I made a mistake some years ago, not supporting Julian Assange – thinking that he was a bad guy. And I've learned a lot since then … He deserves a pardon."
Meanwhile, Lula Da Silva, former president of Brazil has also demanded Assange's freedom from prison multiple times. It was reported recently by Aljazeera that, "In September, he wrote a column for the UK's Guardian newspaper saying Assange's possible extradition to the US would be "an outrage". In addition to this, Noam Chomsky, a prominent linguist, author, public intellectual and political critic, has stated that "extraditing Assange would be 'catastrophic' for press freedom". Lastly, the president of Argentina, Alberto Fernandez, also signed a letter in September of this year which states:
"We call on you to act in accordance with national and international law, human rights and the rule of law by bringing an end to the on-going extradition proceedings and granting Mr. Assange his long overdue freedom – freedom from torture, arbitrary detention and deprivation of liberty, and political persecution…"
Aside from these important names, the former president of Ecuador, Rafael Correa, also expressed strong reaction to the revocation of Assange's asylum by his replacement, the current president Lenin Moreno. Correa granted Assange asylum during 2012 at the Ecuadorian embassy in the UK. However, when president Moreno stepped in, Assange then was arrested by the UK authorities. According to Correa, "Scoundrel and betrayal can be summarised in two words: Lenin Moreno."
As Assange's accusers look forward to the US court's decision tomorrow, human rights groups such as Amnesty International, Human Rights Watch and the American Civil Liberties Union (ACLU), and even the United Nation's top human rights lawyer, Nils Melzer, have demanded for his immediate release. Increasingly, more and more mainstream media outlets are now commenting and voicing support for the Australian publisher. And also, aside from Tulsi Gabbard, John Pilger, and famous US whistle-blowers Edward Snowden and Daniel Ellsberg, famous artists still express support for Assange, including the musician and Pink Floyd co-founder Roger Waters, Chinese artist Ai Weiwei, actor Pamela Anderson, and the British musician MIA.
Also, on December 22, Stella Moris, Assange's fiancé and the mother of his two children has answered an interview by Revolver News, expressing a very emotional plea to President Donald Trump regarding Julian Assange imprisonment; saying that "Julian's liberty and the liberty of the United States hang together." Moris also stated:
"If I could speak to the President, I would tell him that Julian's liberty and the liberty of the United States hang together. The President can save Julian, he can save our family, and he can save the First Amendment with a single stroke of his pen. It is in his power to do so. He is the only one who can do it, and he can do it today. He can do it now. Please — let him come home to his little boys. Save Julian's life, save our freedoms and save the future of America."
She then added:
"…this is an unconstitutional, political case that has bent the law to suit its political objective. It turns necessary journalistic practices — communicating with a source and having and publishing true information — into crimes."
Meanwhile, still regarding Assange's extradition, Glenn Greenwald tweeted on December 16, 2020:
"The chances are very high that if Trump doesn't pardon Assange and put a stop to the insane attempt to extradite him to the US, then he will die in a UK prison, convicted of nothing, with a very dangerous precedent pending. That arouses liberals, but it's profoundly unjust."
References:
Featured image: https://www.voanews.com/europe/julian-assange-supporters-prepared-prolonged-legal-battle