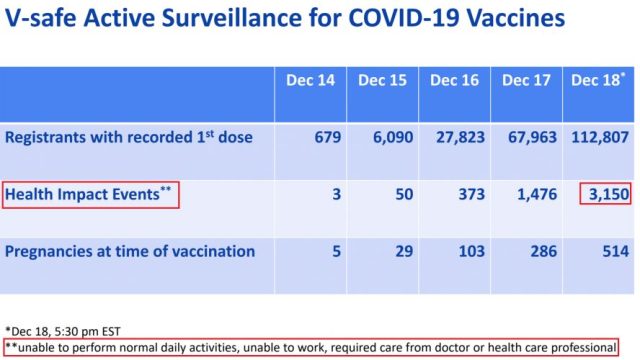 In a paper called "Anaphylaxis Following m-RNA COVID-19 Vaccine Receipt" released by Dr. Thomas Clark, MD, MPH, on December 19, the Centers for Disease Control and Prevention (CDC) revealed that almost 3,150 people who were administered the COVID-19 vaccine were paralyzed and were "unable to perform normal daily activities, unable to work and required care from doctor or health care professional." The V-safe Active Surveillance for COVID-19 Vaccines labels it as "health impact events".
According to the CDC report, they had identified "6 case reports of anaphylaxis following Pfizer-BioNTech vaccine" in the US on December 18. Meanwhile in the UK, authorities confirmed 2 cases of anaphylaxis "after COVID-19 vaccination" on December 8, 2020.
On the following day, another 2 cases more were confirmed by the UK authorities. The CDC then stated that "anaphylaxis following COVID-19 vaccination should not receive additional doses of COVID-19 vaccine". It also said they, along with Food and Drug Administration (FDA), are preparing for an investigation to and "discussions with CISA investigators, NIH, Medicine and Healthcare products Regulatory Agency (UK), allergy/Immunology experts, and other partners".
Meanwhile, as reported in Daily Mail and other sources, a nurse in Portugal died two days after getting Pfizer-BioNTech's COVID-19 vaccine. The health worker's "sudden death" comes as a "shock to the world community", adding to the hesitancy regarding the "safety and efficiency" of vaccines, especially from Pfizer. According to the report, Sonia Acevedo, a 41-year-old healthcare worker died at her home on January 1, Friday, 48 hours after she got the Pfizer-BioNTech vaccine (January 30). She worked at the Portuguese Institute of Oncology in the department of paediatrics in Porto. The report also said she had no health problems before and did not suffer any side effects after the shot.
Read or download the full report here (PDF format):
References: