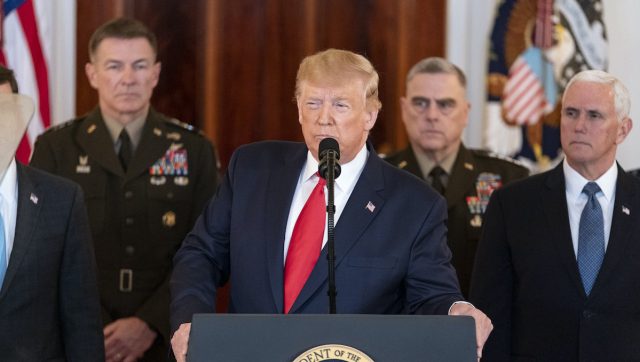 President Donald Trump announced that Iran appears to be "standing down" on the conflict and that the US doesn't have to use more of its military power this time. Although President Trump made it clear that the American forces are "prepared for anything".
"For far too long — all the way back to 1979, to be exact — nations have tolerated Iran's destructive and destabilizing behavior in the Middle East and beyond. Those days are over. Iran has been the leading sponsor of terrorism, and their pursuit of nuclear weapons threatens the civilized world. We will never let that happen."
Trump also added:
"The fact that we have this great military and equipment, however, does not mean we have to use it. We do not want to use it. American strength, both military and economic, is the best deterrent."
He also stated that no American or Iraqi soldiers were injured or killed on the Al Asad and Erbil on the attacks on Tuesday even though it was aimed to target soldiers in the bases. The Department of Defense said that the troops had plenty of time to prepare for the attack as they had multiple hours of warning before it happened. With regards to this, Iran claimed that they launched the missile strikes to retaliate the killing of Major General Qassem Soleimani on the 3rd of January. Though, some of the missiles failed. According also to Trump, it was a decisive move taken by the US to prevent further threats to American lives.
Despite the US' advancements on Iraq against Iran, Trump called for a de-escalation of the conflict claiming that further use of military power is not necessary. However, some Iranian news outlets "falsely" claimed that there were 80 Americans killed on the said attack on Tuesday. On the other hand, Iran's Foreign Minister Javad Zarif said that it's up to America's decisions on how it will proceed to the ongoing conflict. He also stated that the US is having its "adventurism" in the region and that Iran is not seeking war. In addition, the UN ambassador of Iran also wrote a letter to the United Nations claiming that the attack on Tuesday was a "proportionate" act of self-defense and carefully measured to not target civilians the civilian properties. As stated on this letter:
"The operation was precise and targeted military objectives thus leaving no collateral damage to civilians and civilian assets in the area."
Meanwhile, concerned about the conflict and the possible destruction it would bring on the Iraqi people, United Nations Sec. Gen. Antonio Guterres said:
"It is our common duty to make every effort to avoid a war in the Gulf that the world cannot afford. We must not forget the terrible human suffering caused by war." U.N. Spokesperson Stephane Dujarric told reporters.
Sources: