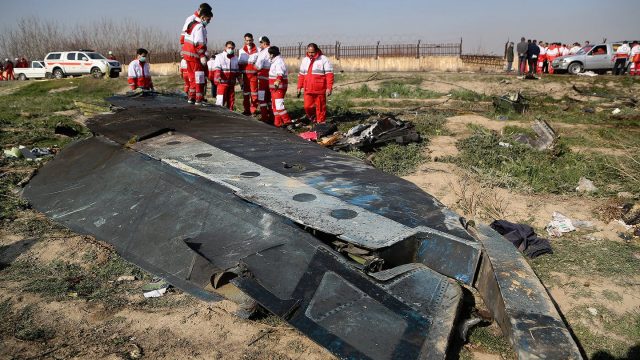 Canadian Prime Minister Justin Trudeau, along with other government officials from the US, said yesterday that it was likely Iranian surface-to-air missiles which brought down Boeing 737 plane from Ukrainian airline last Wednesday. This is, says Trudeau, according to multiple intelligence reports. The proof also includes video showing missiles hitting the plane resulting to the explosion. The video shows that the plane was shot down in Tehran after taking off, leading to its crash and resulted to the death of 176 passengers on board which includes 63 Canadians and several European citizens. No survivors were reported from the incident.
The video footage is now can be found in numerous online sites and social media platforms, showing an anti-aircraft missiles streaking toward the passenger plane, leading to its crash. The footage was said to have been taken by a civilian resident from a neighborhood outside Tehran. Meanwhile, the American intelligence community is confident in claiming that Iran used radar aimed at the jetliner which guided the missiles. The claim was also backed by US satellite that captured the firing of two missiles, shooting to the plane. However, PM Trudeau said that it could have been "unintentional".
Various pictures from the scene show debris of the plane seemingly pierced by shrapnels which indicates the possibility of this claim. Meanwhile, President Donald Trump said in his speech earlier yesterday that the plane was probably hit by Iranian missiles, stressing that engine troubles could not possibly be the reason.
"I have my suspicion that somebody could have made a mistake." Trump stated yesterday.
However, Iran officials continue to deny this claim, stating that it is "scientifically impossible". Answering to the pressure, Iran invited American, British, Canadian, and Ukrainian investigators to look for the evidence to the real cause of the crash. But just after the few hours of the incident, the area of the scene was immediately cleared off from potential evidence, leading to a conclusion that Iranian government intentionally cleared the area to hide evidences.
As of now, US National Transportation Safety Board said it is preparing to send a representative to join the investigation in the site. Iran's foreign minister also invited the US company Boeing to join the inquiry. Meanwhile, Canadian PM Justin Trudeau also added that Iran has so far denied Canada to access the two black box recorders that has been recovered. Ukrainian officials are also eyeing to find out the real cause of the incident. Pointing to the investigation, Ukraine stated:
"If any country has information that can help conduct a transparent and objective investigation into the tragedy, we are ready to receive it and cooperate in further verification."
Sources: