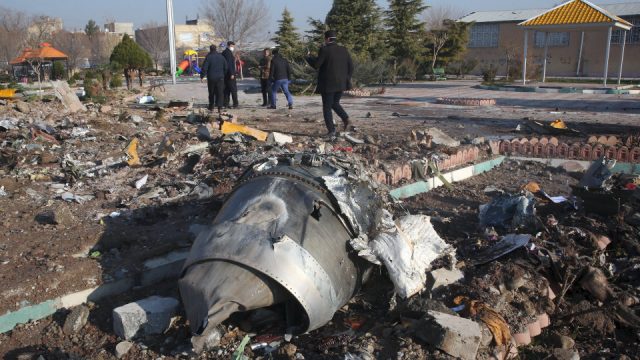 A Ukraine International Airlines (UIA) Boeing 737 plane crashed yesterday in Iran, leading to the death of 176 people. A report from Iran's civil aviation authority says the plane was on fire before it crashed. The grim incident happened amidst the on-going tension between the US and Iran that's why this stirred scrutiny. However, Western intelligence agencies claimed in the media that the tragic mishap was caused by technical breakdown and not by a missile strike, as what others believed.
The plane, Boeing 737-800, was said to have been heading westward but attempted to turn back to the nearest airport in Tehran when it detected the problem before it finally crashed. This is according to the report sent to the head of the National Aviation Authority named Ali Abedzadeh. He also added that the plane disappeared from the radar a few minutes after it took off from Imam Khomeini Airport, reaching the altitude of 8,000 feet.
In a report, investigators claimed that the flight crew didn't signal for help before the accident. Meanwhile, Ukraine president Volodymyr Zelenskiy appealed to the public to avoid further confusion to the issue by not spreading speculations and conspiracy theories. He also asked Iranian officials to properly cooperate with the investigation so that questions regarding the crash will be immediately solved. Though, the incident happened just a few hours after the missile attacks on the American airbase in Iraq, causing many conjectures to the possible origin of the unfortunate incident. Regarding this, Volodymyr Zelenskiy stated in a speech:
"Undoubtedly, the priority for Ukraine is to identify the causes of the plane crash. We will surely find out the truth."
However, Ukrainian officials are now searching for causes of the crash, including engine explosion, collision, terrorism, and even missile strikes. Among the passengers in the plane were Canadians (63 persons), Germans (3), Ukrainians (11), Iranians (82), Swedes (10), and British nationals (3). Meanwhile, Ukrainian government declared that January 9 as a national day of mourning.
Meanwhile, another question was also raised pointing out to the issue of the airline company's technical problems that caused its plane to crash during the years 2011, 2012, and 2018. It was said that some of Boeing's jet was grounded because of the fatal crashes on these recent years, including the incident that lead to the death of 346 passengers. As of now the accident is still being investigated based on the black box recorders that had been recovered from the place where the passenger plane crashed.
Sources:
Featured Photo: wsj.com/articles/ukraine-air-boeing-737-crashes-in-iran-11578457714