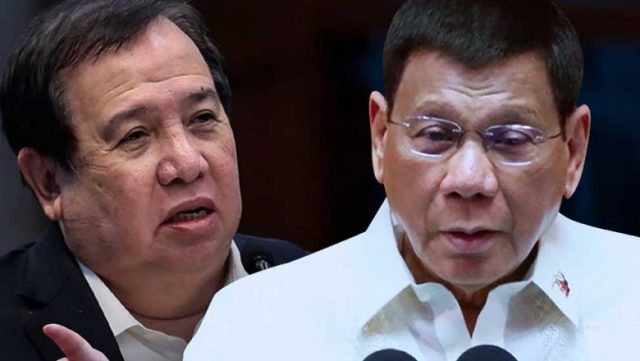 Senate Blue Ribbon Committee chief Senator Richard Gordon said Wednesday, Feb. 2, that with President Rodrigo Duterte's descent to the Palace, he could be charged with inciting to sedition and possibly grave coercion for his role in the questionable P8-billion COVID-19 pandemic supply contract entered into by the government with Pharmally Pharmaceutical Corporation in 2020.
However, Gordon said he believes there is no time for any administrative or criminal case to be filed against the President to move forward as the entire country will enter the campaign period for the May 2022 national elections.
But once he steps down as president and becomes an "ordinary citizen," the Office of the Ombudsman, other departments or any private citizen can start filing legal proceedings against Duterte.
"There is no blanket rule that he cannot be charged; he can be charged by the Ombudsman but there is no more time. This has reached us, "Gordon said in a press conference.
"So after this (18th) Congress, he would be an ordinary citizen, and to the other people who have committed crimes in this country, the long arm of the law will eventually catch up with whomever is guilty," the senator added.
On Tuesday, Feb. 1, Gordon finally released the Senate blue ribbon panel's partial committee report at its marathon hearings on the government's controversial purchase of overpriced and substandard supplies of COVID-19 from Pharmally Corp. a company with only a paid -up capital of P625,000.
The panel recommended filing graft and corruption and other liability cases against Health Secretary Francisco Duque III, former Department of Budget and Management (DBM) Undersecretary Christopher Lloyd Lao, several senior Pharmally executives, as well as several prominent Chinese businessmen. .
The report included recommending the deportation of Michael Yang, Duterte's former economic adviser, and who was repeatedly defended by the president during the Senate investigation.
In the 113-page report, Gordon said Duterte committed a "betrayal of public trust" when he appointed Yang, a mainland Chinese national who had long been his friend and supplier to Pharmally.
"It is difficult to believe that President Duterte was oblivious to what transpired. The financier of Pharmally is his longtime friend, Michael Yang, a Mainland Chinese national who held an appointment as a presidential economic adviser," Gordon said.
"All of the government officials who approved the transactions are or were presidential appointees, many of whom had long-standing relationships with the President whether as an election-supporter, fraternity brother, or consultant in his previously held offices," he added.
When asked what specific cases could be filed against Duterte when he steps down from office, Gordon said the President could be held accountable for grounds of inciting sedition and grave coercion.
"Isn't it? don't go there (in the Senate), don't believe there… That is inciting to sedition, "Gordon pointed out.
"Inexcusable negligence of duty. Why did you put Michael Yang, you know that Chinese citizen, you will put him in the corridor of power?… You put the snake in the poultry, that's what happened there," the senator added.
Gordon also said Duterte should be held accountable for breach of official duty and grave coercion for disrespecting constitutional bodies especially when he did not respect the Senate and its mandate as a co-equal branch, for intimidating the Commission. on Audit (COA) who found out about the anomalous purchase, for prohibiting Cabinet officials from attending the Senate panel investigation.
"He's intimidating the COA… He's intimidating the senators, the insult… that's sedition eh… preventing a lawfully constituted government body from defending their lawful duty," Gordon pointed out.
"The President as Chief Executive should have known what was going on under his nose. If he did not, he surely became aware of it when the investigation was underway. But when the anomalies were brought to light in the Senate, the President, instead of getting to the bottom of the situation and punishing those responsible, unleashed fury at and threatened the Senate and the senators, erected obstacles in the course of the investigation, and committed grave abuse of power by preventing the appearance and cooperation of officials from the executive department," Gordon said.
"Worse, he repeatedly and publicly defended and protected those closest to him who had been found to have dipped their fingers into the coffers of the nation at a time when our people were suffering and still are," he added.
"Unfortunately, the President's own behavior leaves us to conclude nothing less than that he was aware of, allowed, and condoned the misdeeds of his closest associates and appointees. For this, he must be held accountable," the legislator stressed.