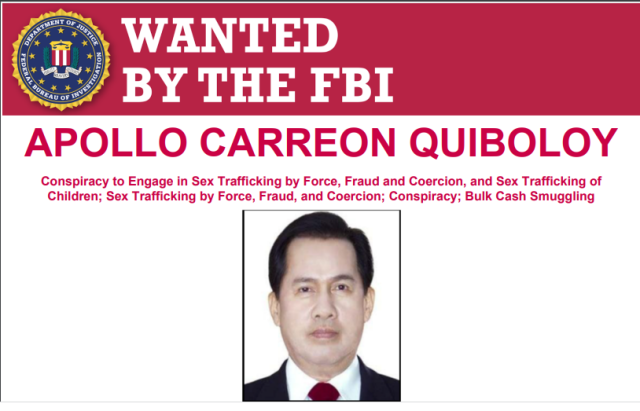 The seemingly delusional preacher named Apollo Carreon Quiboloy who claimed that he is a "son of God", that he can stop the earthquake, and recently, said on his Youtube Livestream addressed to his followers that the so-called omicron variant is God's punishment for "persecuting, prosecuting and maligning" him has been declared wanted by the Federal Bureau of Investigation (FBI). On the "Human Trafficking" section of the FBI website posted early this month, the heading stated:
"Wanted: Apollo Carreon Quiboloy
Conspiracy to Engage in Sex Trafficking by Force, Fraud and Coercion, and Sex Trafficking of Children; Sex Trafficking by Force, Fraud, and Coercion; Conspiracy; Bulk Cash Smuggling…"
The following statement was also posted below the document:
"Apollo Carreon Quiboloy, the founder of a Philippines-based church, is wanted for his alleged participation in a labor trafficking scheme that brought church members to the United States, via fraudulently obtained visas, and forced the members to solicit donations for a bogus charity, donations that actually were used to finance church operations and the lavish lifestyles of its leaders. Members who proved successful at soliciting for the church allegedly were forced to enter into sham marriages or obtain fraudulent student visas to continue soliciting in the United States year-round.
Furthermore, it is alleged that females were recruited to work as personal assistants, or "pastorals," for Quiboloy and that victims prepared his meals, cleaned his residences, gave him massages and were required to have sex with Quiboloy in what the pastorals called "night duty."
Quiboloy was indicted by a federal grand jury in the United States District Court for the Central District of California, Santa Ana, California, for conspiracy to engage in sex trafficking by force, fraud and coercion and sex trafficking of children; sex trafficking by force, fraud and coercion; conspiracy; and bulk cash smuggling, and on November 10, 2021, a federal warrant was issued for his arrest."
And finally, calling for the public to report the whereabouts of Pastor Apollo Quiboloy, the FBI continued:
"If you have any information concerning this person, please contact your local FBI office or the nearest American Embassy or Consulate."
As of now, there is no information on Pastor Quiboloy's situation nor any statement or comment from the president or his office. It is not a secret that Pastor Apollo Quiboloy is a close friend of President Rodrigo Duterte. In fact, Pastor Quiboloy is known as the "spiritual adviser" of the president. In August last year, Manila Bulletin (MB) reported the president's visit to Pastor Quiboloy's "Kingdom of Jesus Christ's" headquarters in Davao City, the hometown of President Rody Duterte. On Apollo Quiboloy's Facebook page, the pastor also posted a photo of the said "food, drinks, and chatting" moment with his "very good friend" the next day, added the report by MB.
In June 2020, the Davao City Prosecutor's Office dismissed all five charges filed against Quiboloy, along with the other five members, for the "lack of evidence". The charges, which include "rape, child abuse under Republic Act 7610, physical abuse, trafficking in persons through forced labor, and trafficking in persons through sexual abuse", was filed by Blenda S. Portugal last December 19, 2019, against Pastor Apollo C. Quiboloy, Jackielyn W. Roy, Cresente Canada, Paulene Canada, Ingrid Canada, and Sylvia Cemanes. However, in November of 2021, Quiboloy was again charged of the same crimes. As GMA Network News reported:
"US prosecutors on Thursday announced sex-trafficking charges alleging that girls and young women were coerced to have sex with the founder of a Philippines-based church who is a friend and adviser to Filipino President Rodrigo Duterte.
A 74-page indictment charges Apollo Carreon Quiboloy, founder of a church called Kingdom of Jesus Christ, The Name Above Every Name (KOJC) and other church officials, including two US-based church administrators, with running a sex-trafficking operation that threatened victims as young as 12 with "eternal damnation" and physical abuse.
Federal prosecutors in Los Angeles said the new indictment expanded on allegations made last year against three church administrators based in the city. It charges nine defendants with participating in a scheme in which church members were brought to the United States using fraudulently obtained visas and forced to solicit donations to a bogus children's charity. Prosecutors said the donations were used to pay for "lavish lifestyles" of the church leaders."
References: