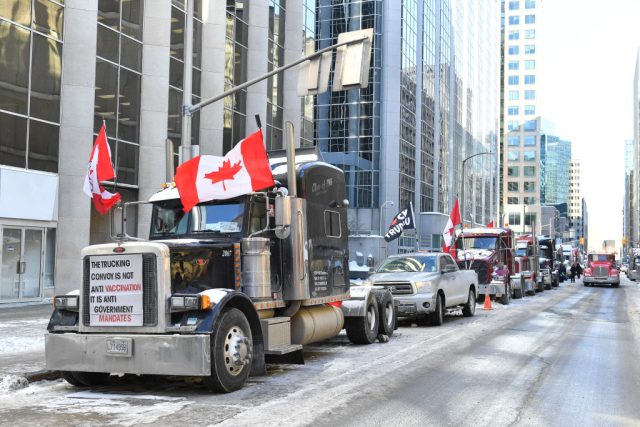 On January 15, 2022, the government of Canada started to enforce a mandate that requires all travelers to be fully vaccinated before crossing the Canada-US border. Thus, many Canadian truck drivers also began protesting against this nefarious vaccine passport mandate in a series of events they call "Freedom Convoy 2022". Organized by Tamara Lich, a Canadian politician who served as the Board of Directors of the Maverick Party, and Benjamin Dichter, an "equal rights advocate", the trucker's convoy headed to Ottawa even though the Canadian Trucking Alliance condemned this action by the protestors.
Ten days later, another convoy segment also passed through Kenora in Ontario while later another one also entered Ontario from the Manitoba border. On the same day, GoFundMe also suspended the "Freedom Convoy 2022" fundraiser through the pressure of the Canadian government while a few days later another convoy also headed to Parliament Hill, passing through Quebec. Meanwhile, responding to the growing convoy protest, Nova Scotia began banning gatherings "along the Trans-Canada Highway between the Nova Scotia and New Brunswick Border".
The main rally in Ottawa took place on the 29th of January where approximately "3,000 trucks and around 15,000 protesters took part". Despite the wonderful response by the majority of the peaceful supporters, the mainstream media picked on the few problematic instances, painting a "racist, misogynist, and even terrorist" picture on the whole protest, using any fault they can find including the presence of Donald Trump. Because of the few problems that occurred, Justine Trudeau's government and the Ottawa police's response intensified; "showing no intimidation".
Demanding for the end of all COVID restrictions in Canada, "Freedom Convoy 2022" organizers and participants stayed in Ottawa. Ottawa Police Service announced in a press briefing that the protest has "become an occupation" and that protesters are "highly volatile". Because of this claim by the Canadian authorities, GoFundMe suspended the $9 million trucker's fundraiser, then issued a statement that they're going to "redirect the funds" to "credible and established charities" that the organizers choose while also offering refunds to those who want their money back. However, in its latest post, GoFundMe stated:
"The update we issued earlier (below) enabled all donors to get a refund and outlined a plan to distribute remaining funds to verified charities selected by the Freedom Convoy organizers. However, due to donor feedback, we are simplifying the process. We will automatically refund all contributions directly — donors do not need to submit a request. You can expect to see your refund within 7–10 business days".
Meanwhile, in response to the rumor that the Canadian Armed Forces will be called by Prime Minister Justin Trudeau, they issued a statement:
"The Canadian Armed Forces are not involved in law enforcement in this situation, and there are no plans for such CAF involvement."
As Health Impact News reported:
"The Canadian Truck Convoy entered its second week this weekend as protests spread to the other major Canadian cities, including Toronto, Quebec, Edmonton, Winnipeg, among others. Earlier today, Sunday, February 6th, Ottawa Mayor Jim Watson declared a "state of emergency" in Ottawa which apparently gives police in Ottawa the authority to arrest people trying to bring food and fuel to the truckers."
References: