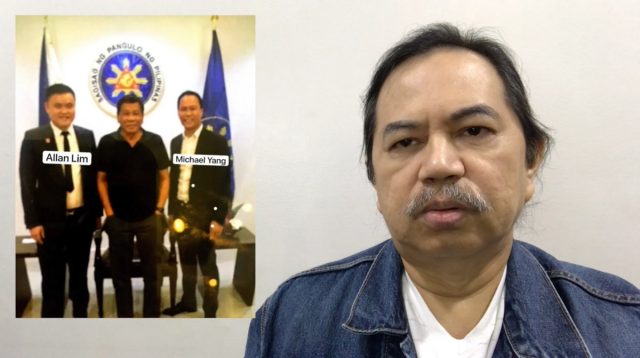 The former deputy director for administration of the PNP Drug Enforcement Group (DEG), ex-cop Eduardo Acierto, has again re-appeared on a video, appealing to be a witness against Michael Yang in the current Pharmally scandal hearing by the Senate Blue Ribbon committee. Acierto created and submitted an intelligence report to various government agencies in 2017, including to the office of the president, to General Bato Dela Rosa, PDEA Chief Aaron Aquino, and to General Oscar Albayalde, alleging Michael Yang and Allan Lim, also another Chinese national, to be involved in the country's billion-dollar-worth illegal drug trade.
Michael Yang, President Rody Duterte's current economic adviser in which the president denied at first, was implicated by Acierto on several drug deals. But instead of conducting an investigation, President Duterte even defended and cleared Michael Yang's name from the list of drug personalities in the country. Instead, Duterte accused Eduardo Acierto, an anti-narcotics operative for almost two decades, of being involved in the "P11-billion worth of illegal drugs smuggled through magnetic lifters in 2018".
"I am the same Police Cornell Acierto who was ordered by President Duterte to be killed by the military and my fellow policemen because I conducted an investigation of the people who happened to be close to him and to Senator Bong Go.
Me and my colleague Police Captain Lito Pirote created a report when we discovered the illegal activities of Michael Yang and Allan Lim, personalities close to the president and Senator Bong Go who are involved with illegal drugs in the country."
Acierto, however, assumes that his colleague Lito Pirote is already dead because of the person's strange disappearance. The retired PNP Major Pirote was abducted by five armed men in Bacolod last April 19 and up until now, no one knows if Pirote is still alive or already dead.
On the video, Eduardo Acierto denied all the accusations against him by the President. One of these accusations is that he is a protector and involved in the illegal drug trade in Manila, despite his long-standing record of success and accomplishments as a higher member of an anti-drug unit. Among other things, Acierto is being accused of interfering with a laboratory raid in Davao City, supplying ammunition to the New People's Army (NPA) rebels, and that he is also involved in a "kidnap for ransom" activity involving Korean and Chinese drug personalities.
Another reason for creating a video is that Acierto wants to answer all the allegations thrown upon him by the president and his camp. He also mentioned that another aim of his effort is to show the Filipino public how they are being fooled by the lies of Duterte's administration. He then continued:
"To my fellow PMA'ers, especially to my immediate upper-class men, underclassmen, and my classmates, I'm all right here."
Talking about his effort of reaching out to the Senate for an investigation regarding his intelligence report, Acierto stated:
"I reached out to the Senate before so that my intelligence report will be published but the sad thing is that it was turned down. Instead, I was the one being accused…
I am appealing to the (Senate) Blue Ribbon Committee to re-visit their recommendation to file a case against me. I am innocent, I'm just doing my job, and I'm just investigating. I am not a drug lord. It was Michael Yang, Allan Lim, they are the drug lords, along with their protectors Senator Bong Go and President Duterte."
Acierto also claimed that he even gave his report to a group of senior officials ni Malacanyang but again, there are no response from those officials. He then stated:
"The question is that why you did not conduct an investigation? Why is it that I was the one being accused? And Duterte even ordered to kill me.
Michael Yang and Allan Lim must be so lucky they don't have to defend themselves because Attorney Duterte and his camp are the ones acting as their lawyers and defenders."
Acierto explained that he failed to join the last hearings regarding his reports because during these times, he is already in hiding because of the death threats that he received from Duterte's camp. But clearly, Acierto stated on the later part of his video:
"I don't have a plan to hide, or to escape, or to stand down on my intelligence report. I attended the Senate Blue Ribbon hearing three times…"
References: