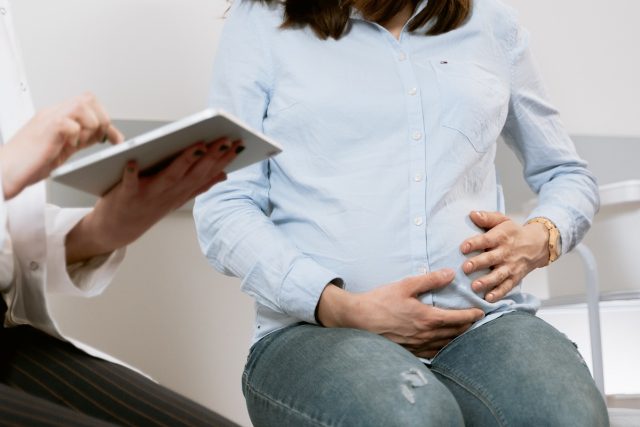 According to the Centers for Disease Control and Prevention's (CDC) recommendation updated last August 11, 2021:
"COVID-19 vaccination is recommended for all people 12 years and older, including people who are pregnant, breastfeeding, trying to get pregnant now, or might become pregnant in the future. Evidence about the safety and effectiveness of COVID-19 vaccination during pregnancy has been growing. These data suggest that the benefits of receiving a COVID-19 vaccine outweigh any known or potential risks of vaccination during pregnancy. There is currently no evidence that any vaccines, including COVID-19 vaccines, cause fertility problems in women or men. Pregnant and recently pregnant people are more likely to get severely ill with COVID-19 compared with non-pregnant people."
However, CDC's own data from VAERS (vaccine adverse events reporting system) tells a different story; a story that was deliberately hidden from the public as it shows the horror many pregnant women have experienced from this experimental jab, being recommended by the CDC in many parts of the world without shame. One example is the information revealed by a whistleblower that is part of a COVID-19 task force telling about many pregnancy complications "including preterm birth, miscarriage, and spontaneous abortions" as a result of the Covid shots. This was published on March 3, 2021 by Abortion Free New Mexico. According to this pro-life group:
"Last month, Abortion Free New Mexico released a report on a woman from Michigan, who at 28 weeks of pregnancy, received the first dose of Pfizer's BioNTech vaccine. She later delivered a nonviable 29-week old baby. Her baby had no heartbeat within three days of the vaccine and she reported the stillbirth directly to the Vaccine Adverse Event Reporting System (VAERS) website attributing the vaccine to her baby's death.
Abortion Free New Mexico continues to receive information from a whistleblower, who sits on a COVID 19 task force, who is concerned not only about these adverse reactions in pregnant women but also about how the media is not alerting the public to these reactions that are resulting in stillbirths at an alarming rate.
According to our whistleblower:
We're up to 35 adverse pregnancy outcomes (preterm birth, miscarriage, spontaneous abortion) related to the 'vaccine' and 25 'birth defects'. There have been 925 deaths reported overall with about 300 of them within 2 days of getting the shot. These are just short term effects!
There are also reports of 'permanent disability'. There will be more later and by then it will be difficult to link them to the vaccine.
This is VERY VERY bad and so many people have already been vaccinated. Many will develop severe autoimmune diseases like MS, infertility, & prion diseases, thrombocytopenia, alzheimers, nonspecific brain damage, lung immunopathology, multiple organ failure.
I guess most of the doctors don't understand the science. I can't believe more aren't fighting this. It's against the Nuremberg code and a horrible crime against humanity. Since the embryo/fetus is so quickly developing they're a good indicator of toxicity.
The other scientists on my team seem 'afraid' to say anything and everything we put out is filtered through the politicians before THEY decide what gets told to the public."
Meanwhile, a Resident Doctor from Wisconsin was also reported to have miscarriage 3 Days after getting this vaccine. This was reported by COVID Legal USA, "a team of paralegals, legal writers and researchers helping Americans represent themselves in legal matters against oppressive, dangerous COVID mandates".
In the UK, the emergency use authorization (EUA) for Pfizer also "had warnings for pregnant women, nursing women, and women planning on becoming pregnant, to NOT get the shot". Furthermore, The Epoch Times has also published an article on March 1, 2021 regarding
"34 cases of pregnant women experiencing spontaneous miscarriages or stillbirths after receiving a COVID-19 vaccine". The Epoch Times report, which was also based on the data from VAERS, stated:
"In one case, a physician in Tennessee, at five weeks pregnant, suffered a miscarriage 13 days after being immunized with a Pfizer vaccine. The 31-year-old woman had no known allergies or medical history.
While a 33-year-old Indiana nurse in her third week of pregnancy had a miscarriage five days after receiving her second Pfizer vaccine. She also reported that the adverse event caused a birth defect.
And a 32-year-old woman in Virginia who was eight weeks pregnant reported having a miscarriage five days after being injected with the first dose of a Moderna vaccine in January. She had consulted with two obstetrics and gynecologists (OB-GYN) prior to receiving the vaccine on Jan. 14. She experienced abdominal cramping and vaginal bleeding two days later and had a miscarriage on Jan. 19. She had only been taking prenatal vitamins.
In Michigan, a 35-year-old woman who was 28 weeks and five days pregnant said that the baby's movements decreased two days after her first Pfizer vaccine in December 2020. The woman delivered a stillborn baby weighing two pounds and seven ounces at 29 weeks. She was being closely monitored for an umbilical cord abnormality called velamentous cord insertion.
Pfizer and Moderna did not respond to a request by The Epoch Times for comment."
References: