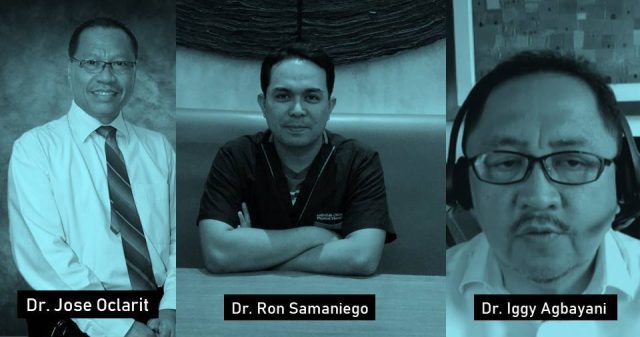 Last April 2021, the Philippine Physical Therapy Association, Inc. (PPTA) released a statement declaring that Dr. Ron Samaniego, the doctor of physical therapy who is also the owner of ActiveLife Chicago PT clinics, is "not a member of the association and that his views do not reflect the views of the entire physical therapy profession". Few days after, Dr. Samaniego answered on his Facebook that he "never wishes to be a member of this association as it is practically useless and even disadvantageous to physical therapists in the Philippines". The association stated that Dr. Samaniego's claims about COVID are "false and baseless" and that his claims about vaccination are "clearly unfounded and without medical value".
This statement of PPTA, however, turns out to be inconsistent to what other Filipino doctors and scientists are really saying about the Covid-19 and vaccine issue. For example, according to Dr. Jose Oclarit, an eminent molecular biologist and biochemist who received numerous local and international awards, these Covid vaccines contain various ingredients that are "very dangerous" to the human body. In his Facebook video published last week, Dr. Oclarit stated:
"The AstraZeneca and J&J (for example) are using what we call the adenovirus which we found out that it is actually a DNA virus coming from a chimpanzee. They use that to deliver the genetic material. But the end point is still to produce the mRNA that could produce the spike protein, and there is no turning back. So this is a very dangerous mRNA shot. It is very very dangerous.
Take note, as a molecular biologist, I could say to you that it is really dangerous because once you are introduced a genetic material, even delivered by this adenovirus from the chimpanzee, although it is not replicating, but it is delivered into the target and then that particular genetic material will forever reside in the particular tissue of the body of the person injected."
Meanwhile, Dr. Benigno "Iggy" Agbayani, the president of the Concerned Doctors and Citizens of the Philippines (CDCPh), who is also an "independent science based health activist, orthopedics, sports medicine and joints specialist", also stated:
"Some people die after vaxx (vaccination). This is a fact. At the very least we in the Philippines should report weekly data. Why is media or DOH not reporting deaths in vaccines like cases in COVID?"
Dr. Agbayani also protested against the lack of evidence by the dominant health authorities in the country claiming that "a virus variant is responsible for a spike of cases and deaths". And talking about medical coercion and violation of human rights perpetrated by health authorities and the government, Dr. Iggy Agbayani posted:
"More vaccine coercion going on. Asking health data without consent is against your right to health privacy. You don't have to declare it to your employer or office mates."
The truth is that not only Dr. Samaniego is speaking out against the on-going unethical and irresponsible vaccination by the Philippine government, he's also protesting against the policies that are being put out for Filipino Overseas Workers (OFW) by the agency in-charged. One of these is the ten-day quarantine policy that is being implemented to OFWs arriving from abroad. These OFWs, according to Dr. Samaniego, come back to the country to see their relatives and not to have a luxurious vacation. What's happening to them instead is that they have to spend big amounts of money on hotel payments and other expenses related to these baseless quarantine policies. Expressing his grievances that are also being shared by many Filipinos experiencing this on-going cruelty and medical abuse, Dr. Samaniego stated:
"Though it is hard for you to accept this, you are treating us OFWs as virus carriers instead of those Chinese people that are entering the country. Because you people on the current administration need those Chinese people for POGO (Philippine Offshore Gaming Operators).
Dr. Samaniego then asked his audience:
"Haven't you notice that there are so many new buildings rising for POGO?"
For those who are not yet familiar, POGO is "an entity which offers and participates in offshore gaming services by providing an online platform where players may gamble with others over the internet". This is because gambling is highly illegal in China except for state-run lotteries. Therefore gambling companies operate here in the Philippines to continue providing for Chinese people who like to gamble.
In addition, Dr. Samaniego also appealed:
"To all IATF (Inter-Agency Task Force for the Management of Emerging Infectious Diseases) officials and decision makers out there, it has to stop. You need to understand that our fellow Filipinos are not your enemies, they are not the ones who got the disease but the Chinese people. Those are the ones that you have to restrict, do not let them in. Don't treat us OFWs who only want to see our families as if we really have the disease."
Meanwhile on his Youtube channel, Dr. Ron Samaniego also stated:
"All of you there in IATF, you need to listen because time will come when you are not in the position anymore, you will reap all the things that you sow. Election is coming in less than a year time, they will remove you all. For now, you're still enjoying but when that time comes, I don't know what will happen to you. Perhaps, some of you will go to jail. Please show some compassion to OFWs. You say they are heroes but you treat them like they have leprosy, as if they are the virus carrier when in fact it came from China."
References: