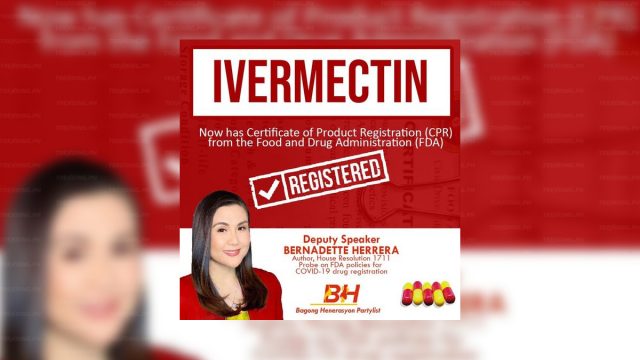 The fight that the good doctors fight, brave community, and supporters of Concerned Doctors and Citizens PH (CDC PH) is now paying off.
Deputy Speaker of House of Representatives of the Philippines Hon. Bernadette Herrera shared on her Facebook account thanked FDA and proudly stated that:
"Ivermectin is now registered under the FDA!"
Deputy Speaker Herrera added that although the fight is not yet over, it's already a big step of proffering the Filipino citizens other COVID-19 treatment options.
Hon. Herrera uploaded another statement regarding the welcoming of the issuance of Ivermectin on the same account.
"Given that the Philippine government previously agreed to hold clinical trials on the use of Ivermectin, Herrera believes that the issuance of a CPR is a perfect complement to this effort. "As of now, we already have a number of foreign clinical trials that can be used as a basis. Now that the FDA has allowed a local pharmaceutical company to make Ivermectin available in the market, however, the proper documentation, observation, and follow-ups can already be used for statistical inference," she concluded.
Based on the CPR issued to Lloyd Laboratories, Ivermectin will be made available as a prescription-only drug in 3mg, 6mg., 9mg., 12 mg., and 15 mg. doses."
Hon. Herrera's complete statement is available here.