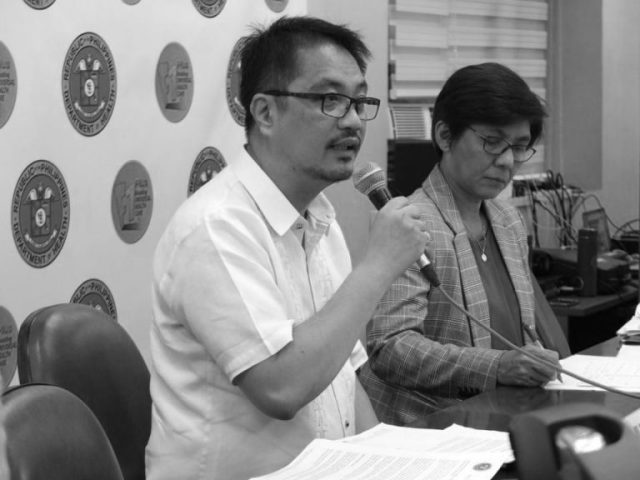 Last week, the Food and Drug Administration (FDA) in the Philippines, through its presentation to President Rody Duterte, rejected Ivermectin, a drug being used as prophylaxis or preventive medicine for COVID-19. FDA's chief Eric Domingo said Ivermectin is a medicine for animal and that its use for humans is inappropriate. What Domingo didn't want to acknowledge is that what is being used by doctors are human-grade Ivermectin capsule and this has been clinically proven to be effective and safe on the right doses. Therefore, FDA chief Eric Domingo is again misleading the president and the public regarding this matter.
Responding to FDA's position, on Monday March 22, the Concerned Doctors and Citizens Philippines (CDCPh) made a press release regarding Ivermectin, the controversial drug touted by doctors not only in the Philippines but also in the US for treating hospitalized patients alleged infected by coronavirus. The CDCPh stated:
"It is with a heavy heart that CDC Ph announces that Dr. Allan Landrito will cease to compound the raw materials he needs to make the Ivermectin pills that so many Filipinos have been depending on for so many months now for protection against this Coronavirus."
Dr. Allan Lambito was said to have been legally "threatened" by the FDA in order to stop touting Ivermectin. A follow-up circulating message says:
"Yesterday one of our doctors suddenly received a surprise visit from the FDA, after which he was asked to stop dispensing Ivermectin. Because a Government agency has asked us to do this and because disobeying that agency could put our Doctors in legal peril, we regret to announce that we will be forced to comply."
Ivermectin is an anti-parasitic medicine that has been proven in laboratory studies "involving 6,612 patients in 27 controlled trials" as "highly-potent anti-viral and anti-inflammatory" drug. Its discovery also won the Nobel Prize in 2015. And for the past 4 months, numerous centers across the globe "are reporting consistent, large improvements in COVID-19 patient outcomes when treated with ivermectin". Many countries around the world are now using this drug as treatment for the alleged COVID-19. Some confirmed countries are Slovakia, Turkey, Poland Peru, Brazil, Mexico City, Haiti and some parts of the US. Doctors claimed "it's a safe oral drug used for over 40 years for other illnesses in humans".
On its effectiveness, it was reported by Manila Standard that "the Association of American Physicians and Surgeons (AAPS) stated that "…over a billion doses have been used since the 1980s of this very safe medicine. Perhaps with this change, patients won't need a court order to get a lifesaving drug". That's according to the executive director Dr. Jane Orient. Meanwhile, Manila Standard also added that "the Frontline Covid-19 Critical Care Alliance are also in full support of the drug saying "Ivermectin is one of the world's safest, cheapest and most widely available drugs". Therefore the FDA and the DOH has a lot to explain on this matter.
(To learn more about Ivermectin's effectiveness, go directly to the Manila Standard report:
https://manilastandard.net/opinion/columns/naked-thought-by-charlie-v-manalo/350039/blood-on-their-hands-20210322.html)
What's more ironic is that Ivermectin has been declared by the World Health Organization (WHO) as an essential medicine. Essential medicine, according to the WHO, "are intended to be available within the context of functioning health systems at all times in adequate amounts, in the appropriate dosage forms, with assured quality and adequate information, and at a price the individual and the community can afford".
Thus, several experts and advocates from CDCPh are questioning the FDA why they suddenly changed its status and now threaten to penalize doctors and health workers who administer Ivermectin when they approved it in the first place. For example, one of the members of CDCPh, Mari Kaimo, also a strong critic of the way the crisis is being handled by the Philippine government, posted last week questioning the FDA:
"Why is it on the list in the first place…?
And if it does have FDA-approved uses, as we all know it does, why did you seek to repeatedly delay the application of the first doctor who attempted to secure a Certificate of Product Registration for it?"
He then continued:
"Is Ivermectin available to Filipinos today at all times and in adequate amounts as any drug on the Essential Medicines List should be, Doctors Duque and Domingo? Since it was not, why did you stop the one man (Dr. Allan Landrito) who got the ball rolling in that direction and deny him the CPR you knew he had every right to secure? If your counter-argument is going to be that this is all within the context of functioning health systems. Yes, you are now being viewed in a very bad light by the very same Filipino people you swore under oath to serve. Would not the easiest way out of this problem be for you to work with Dr. Landrito instead of against him?"
The truth is that people have the right to administer or use Ivermectin as it was included by the WHO and the FDA in the 8th Edition of the Philippine National Formulary Essential Medicines List (only for 3-mg and 6-mg-strength tablets) since 2017. One respected columnist in a prominent press Manila Standard named Charlie V. Manalo wrote:
"So, why the 180-degree turn-around now? Why rely on the report of the National Institute of Health—University of the Philippines, whose member, Dr. Edsel Maurice Salvana, an infectious disease doctor pushing for the expensive Remdesivir, and who reportedly served as a speaker or member of the speakers' bureau for Pfizer, Astra-Zeneca, Cathay Drug Company and Merck? Is the study of the NIH-UP more reliable than that of the NIH in other parts of the world like the United States which has recommended Ivermectin as an option in treating COVID-19?"
Remdesivir is the current drug being used to treat patients alleged infected with COVID-19. According to Manalo's report, it costs "P28,000 per vial and administered twice daily" until the patient is discharged. However, Ivermectin only costs around P35 pesos, "to be administered once daily for three days, totalling just a little over 100 pesos, together with vitamins, to treat the illness". There is a huge advantage for patients to use it instead of using Remdesivir. Obviously, the decision of the FDA is not for the interest of the public, especially the poor Filipinos who cannot afford their preferred drug in which there is no study.
Regarding the effectiveness of Remdesivir, Mari Kaimo of CDCPh also asked:
"Can the DOH and the FDA even prove that their highly-recommended drug Remdesivir works as well as they think it does? Because the WHO disagrees with them and says Remdesivir does not work and should no longer be used. If the DOH is right and the WHO is wrong, can the DOH show us their evidence?
The FDA has chosen to go to war against Dr. Allan Landrito. I've seen the evidence. I know who Dr. Landrito's lawyers are. The FDA is going to lose this one big-time."
Meanwhile, Dr. Benigno Agbayani Jr., chairman of the Manila Doctors Hospital Orthopedics Department, the President of CDCPh and also another advocate for ivermectin, said other countries have already used the drug to treat COVID-19; adding that his colleague, Dr. Allan Landrito, "has applied to be licensed as a trader but is facing some delays".
References: