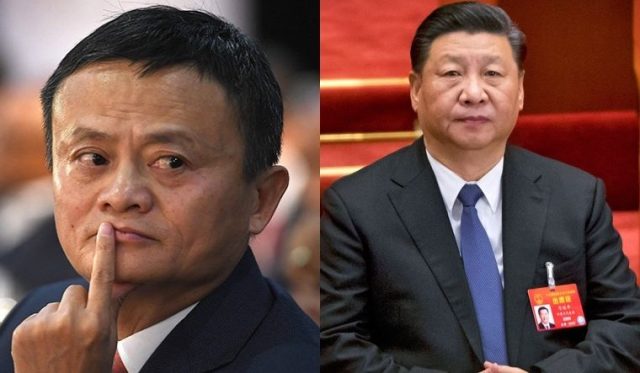 After he delivered a speech at Bund Finance Summit in Shanghai during last October, the billionaire Jack Ma was reportedly missing from the public view; inevitably causing curiosity and even worries to some. Some people speculate that Jack Ma was taught a lesson by the communist China because of what he said on that speech and that he might be "laying low" as an aftermath from the "punishment". According to reports, Jack Ma criticized China's financial regulators as "too conservative"; lacking creativity and "new" approaches to the problems and running like an "old people's club." Some say those words from Ma were taken too seriously by the senior regulators listening at the audience that's why he got their attention. On this, CBS News reports:
"Ma leveled the criticism about a week before a highly anticipated IPO of Alibaba's financial affiliate, Ant Group. Days later, Ma and Ant Group executives were summoned and interviewed by Chinese regulators. The $37 billion IPO, which was set to be the largest public share offering ever, in the world, was pulled the next day.
Chinese regulators have criticized Ant Group for edging rivals out of the market, accusing it of harming consumer rights. Alibaba, meanwhile, has been investigated in China for alleged monopolistic behaviour."
Jack Ma, the founder of Alibaba, is considered a very important business person whose success has enabled him to enjoy a celebrity-like or even a famous philosopher-like status; having privileges to famous events, conferences, and shows including a speech at the World Economic Forum (WEF) in 2017. Besides Alibaba, he also has another fintech service called Alipay, a system for making payments using QR codes. It is said that Alipay greatly affects China's cash system as it is now being used for transactions worth billions. NPR reported:
"Alipay was spun off into a company called Ant Financial. Last fall, Ant Financial was on the verge of an initial public offering of stock — potentially the largest in history.
And that's when things started to go wrong. Regulators abruptly suspended the IPO, the Chinese government opened an investigation into Alibaba, and Ma has been largely out of public view after he criticized regulators."
Meanwhile, the NY Mag's report on Jack Ma says:
"In the aftermath, President Xi Jinping made the personal decision to block Ant's IPO, sources told the Wall Street Journal, and those pesky financial regulators also began looking into Alibaba for violating antitrust laws. And Jack Ma fell out of sight. He hasn't been seen in public since October. In a November press release for Africa's Business Heroes, a Shark Tank–esque television show Ma created and was a judge on, he was quoted as saying he was very excited for the finale. After his speech, he was replaced on the show by Lucy Peng, an Alibaba executive, and his image was removed from its website. According to the Financial Times, the finale was shot in November but will premiere this spring."
"The party has once again reminded all private entrepreneurs that no matter how rich and successful you are, it can pull the rug out from under your feet at any time." Bill Bishop
Before this, another big news from the business community also broke out from China during March last year. A big Chinese real estate tycoon named Ren Zhiqiang went missing after writing an essay strongly criticizing the Chinese government for the coronavirus scare, calling China's leader Xi Jinping a "clown stripped naked who still wants to be the emperor." It was only during September when Ren Zhiqiang reappeared in court and was already sentenced to 18 years in prison for "corruption, bribery and embezzlement of public funds". According to authorities, Ren Zhiqiang volunteered to confess these crimes.
Historically, it's also evident that China imposes "tough discipline" to its critics. It's clear that the communist republic's strong reaction shows it is always ready to defend itself against everything that threatens their existence. Some believe that another underlying reason for "retaliation" on Jack Ma is the "reassertion of the role of the state in the economy", a thing which getting more noticeable from the aggressive actions of China. This can be observed in Xi Jinping's call for investigation to tech companies within China's reach for a reason there may be "monopolistic behaviour or excess power".
Meanwhile, a report on Jack Ma's profit during the scamdemic states:
"Alibaba shares jumped by as much as 5% on Tuesday following numerous reports that Ma was not missing, but just lying low. The previous day, after more than two months without any sign or word from Ma, the shares slid 2.15%. Shares of Alibaba have trailed the rest of the U.S. market recent, rising 10% in the past year, far less than other tech giants, which have rocketed higher during the pandemic."
References:
https://www.cbsnews.com/news/jack-ma-missing-alibaba-china-regulators/
https://www.npr.org/2021/01/08/954046428/alibaba-founder-jack-ma-has-fallen-off-the-radar-here-are-some-clues-why
https://nymag.com/intelligencer/2021/01/where-in-the-world-is-jack-ma.html
Featured image: https://www.theweek.in/news/biz-tech/2020/12/24/why-xi-jinping-govt-is-after-alibaba-and-jack-ma-the-poster-boy-of-chinas-tech-dreams.html