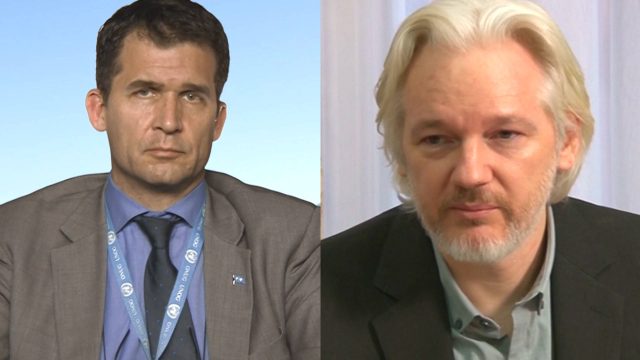 Even a top UN human rights lawyer, Nils Melzer, is against Assange's extradition to US, demanding that Julian Assange "should be freed from decade-long arbitrary detention". The UN special rapporteur on torture stated that Assange should be released "immediately" from "baseless" imprisonment while waiting for the judge's decision on his US extradition. Melzer argued that Assange, a 49 year-old Australian, "should not be extradited to the United States due to serious human rights concerns" and that his imprisonment is "neither necessary nor proportionate".
Melzer also stated that Assange should be released from prison as he is currently "suffering from a pre-existing respiratory health condition". On December 23, Democracy Now has reported that Nils Melzer "urged Trump to pardon Assange". He also commented:
"Mr Assange's rights have been severely violated for more than a decade. He must now be allowed to live a normal family, social and professional life, to recover his health and to adequately prepare his defence against the US extradition request pending against him."
Julian Assange, the founder of the whistleblowing news outlet Wikileaks, is currently being held in a top-security London prison located at Belmarsh, awaiting the next hearing which will be held on January 4, 2021. He is facing 18 charges in relation to 500,000 secret documents that they have released in Wikileaks around 2010 detailing severe corruption and terrorism within and by the US military industrial complex, particularly on its campaigns in Iraq and Afghanistan. If convicted of "espionage" and conspiracy charges, Julian Assange will receive a 175 year imprisonment penalty.
Julian Assange's case has been a major concern even to some mainstream media journalists. Many, including CNN and the New York Times, have warned before that if Assange will be convicted, freedom of the press will again suffer another major defeat. Currently, Julian Assange is facing extradition request from the US but his lawyer has stated recently that the trial in America "would not be fair", that's why she and her client strongly oppose the idea.
If the extradition will succeed, some people believe that the US would set an example to other big players in the bad politics of the economy, such as Saudi's richest tycoons for example or China's "nasty communists", who do not want criticisms and not so interested to support the idea of press freedom. Many question why such great threat to democracy cannot be defended by the US government which supposed to serve as protector of the people's constitutional rights, including the right to "free speech" and "freedom of information". Therefore, Assange's camp asserts that he is protected by the First Amendment.
Assange's first arrest, though already dropped, was in the UK during December of 2010. The charges were not about his journalism works in Wikileaks, though, but on an alleged sexual misconduct; with warrant issued by the Swedish authorities. Later in 2012, while he's on bail, Julian Assange granted a political asylum in Ecuador's embassy in London where he remained for seven years. But in April of 2019, after a significant regime change, Assange was turned over to British authorities and remains captive until to this day.
Meanwhile back in September, Julian Assange's lawyer Jennifer Robinson disclosed at a London court that her client "was indirectly offered a win-win deal by President Donald Trump that would see him avoid extradition to the U.S. if he revealed the source of a leak of documents from the Democratic Party before the 2016 election". In a News18 report, it was written that Jennifer Robinson has said in her written statement that:
"…the pair wanted us to believe they were acting on behalf of the president and that they had stated that Trump was aware of and had approved of them coming to meet with Assange to discuss the proposal. She also said the pair said they would have an audience with the president to discuss the matter on their return to Washington
The proposal put forward by Congressman Rohrabacher was that Assange identify the source for the 2016 election publications in return for some kind of pardon, assurance or agreement which would both benefit President Trump politically and prevent U.S. indictment and extradition," Robinson said. Any information on the source of the link would be of interest, value and assistance to Trump, the pair said, according to Robinson."
References: