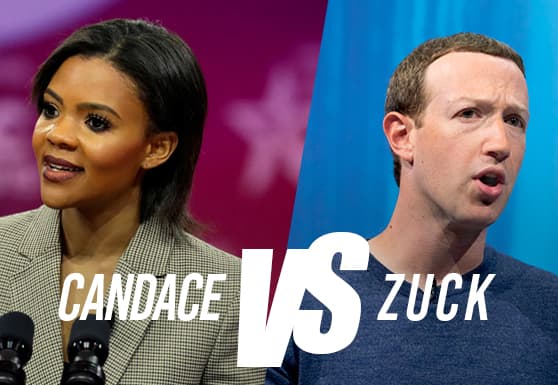 It is indeed true that only information that they agree with about COVID-19 is acceptable to Facebook. This has been very obvious to many people who are aware about the blatant censorship being carried out by Mark Zuckerberg's social media company since early this year. Thousands upon thousands of Facebook user have experienced this seemingly 'totalitarian' policy which enabled the coronavirus scam to succeed and paved way for the global elite's aim to destroy the economy and starve the population using the World Health Organizations (WHO) and other corrupt government agencies.
One of the victims of this communist-fascist style censorship by Facebook is the high profile conservative activist Candace Owens. Because of this Owens has filed a lawsuit against the company's third-party, so-called fact-checkers, which censored her video post in August regarding a certain doctor's opinion on COVID-19 scandal. Facebook quickly issued a strike to her account and even tried to demonetize it; meaning that the company has tried to prevent her from using her account to raise money for her campaigns. On her video post, Owens said:
"Every time I get fact-checked I look at these people to see how they lean. They're all extremely left-leaning so we know what has happened is that democrats and leftists have put their little Marxists into the positions of power to fact-check and censor opinion."
Facebook was also under fire when during the recent months, the company also fact-checked and censored countless health professionals, doctors, experts and even politicians, including the president if the America, expressing their opinions which are against the "official narrative" of this coronavirus scandal. In relation to the issue, Owens stated:
"These are actual doctors being censored. In what society can you imagine this happening again? I would imagine this under Joseph Stalin; I would not imagine this in America today."
In August, Facebook has also deleted a post by President Donald Trump saying "it violated its policy against spreading misinformation about the coronavirus". This was the first time that Facebook censored the president of the United States. Many people say this is another major red flag to be vigilant of as it sends a frightening message to everybody of what narrative and political views are only allowed by these major platforms to be delivered to the public despite that the internet is the only effective way for the ordinary citizens to hear about facts that would allow them to form an informed decision and consent.
President Trump's post was regarding children's immunity to the alleged viral disease. Facebook then said Trump's post was "a violation of our policies around harmful COVID misinformation". On her video, Owens also commented:
"If the president of the United States is not free to speak directly to us, without being fact-checked, without being shutdown, none of us are free."
Candace Owens is not only the high profile activist who filed a lawsuit against Facebook and its fact-checkers. Just a few months ago, Robert F. Kennedy Jr., a very prominent environmental and children's health activist, also announced that they are filing a case against these people for "Government-Sponsored Censorship, False Disparagement and Wire-Fraud post".
References:
Featured image: https://www.factcheckzuck.com/