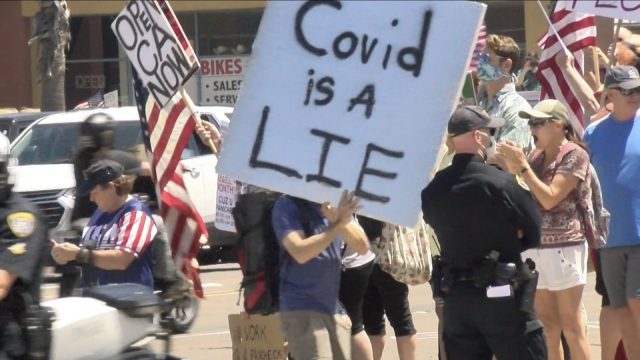 Not being covered mostly by mainstream news media outlet, many law enforcement officers are now expressing disapproval against the strict 'stay-at-home' policy by issuing public statement and open letter, some even calling it a "draconian restriction".
Racine County Sheriff Christopher Schmaling of Wisconsin wrote an open letter stating that his department would not be imposing the stay-at-home order issued by the state's Democratic governor. This decision, according to Schmaling, was based on upholding the citizen's constitutional rights and freedom. He stated in the letter:
"I took an oath to uphold the constitutional rights of our citizens and I cannot in good faith participate in the destruction of Racine County businesses or interfere in the freedoms granted to all of us by our Constitution. We will leave the enforcement of public health orders to the health department experts."
Meanwhile, another Republican sheriff who represents a county north of Seattle also expressed a protest against the closing of certain businesses in Washington State. Snohomish County Sheriff Adam Fortney also wrote an open letter addressing his community, stating that:
"We have the right to peaceably assemble. We have the right to keep and bear arms. We have the right to attend church service of any denomination. The impacts of COVID 19 no longer warrant the suspension of our constitutional rights."
Fortney also added that his office will not enforce an order that would prevent religious freedoms and constitutional rights.
In Leelanau County, Michigan, Republican Mike Borkovich also wrote an open letter stating that his deputies will continue to exercise discretion while interacting with the public. Borkovich clearly indicated that he supports the orders signed by President Donald Trump and his state's Democratic governor Gretchen Whitmer but also enforcing it with respect to people's constitutional rights in handling the stay-at-home order violations.
This is what he wrote in the letter:
"We are not making traffic stops to see where you are traveling to, ticketing or arresting people whose kids are playing in the yard or questioning people as to unnecessary travel. We still have great discretion and as such, will continue to show as much compassion as possible as we work through these admittedly hard times together."
The sheriff also indicated that his deputies would not infringe the people's constitutional rights or civil liberties when handling with violations.
On the other hand, Houston police union also issued an open letter, strongly opposing the new order by Harris County Judge Lina Hidalgo that requires face coverings by anyone in public over 10 years of age, which also carries a $1,000 fine for noncompliance. Joe Gamaldi, president of the Houston Police Officers' Union said that while officers support this order for the public, wearing masks, "police departments do not have the resources to enforce "draconian" face covering orders". Gamaldi also called this new mandate "idiotic".
Gamaldi also stated that strongly enforcing this mandate could negatively affect their relationship with the community. In the letter, he wrote:
"Our officers work every single day to bridge the gap with our community and earn their trust. We will not stand idly by and allow Hidalgo to tear that bridge down, with her horrific leadership and echo chamber decision making."
Furthermore, in Republic, Washington, Chief of Police Loren Culp also expressed objection to the stay-home order, saying "Governor Jay Inslee is violating the Constitution by closing down small businesses" and that "citizens should be free to go on with their daily lives".
He stated:
"Walmart, where you might be among 100 or more other shoppers, are deemed critical and allowed to be open, but the local mom and pop cafe can't allow even five people inside without he threat of their state business license being pulled, and fines being imposed."
"If I choose to peacefully assemble, go to church, go to a gun shop, take my family fishing, open my business, enjoy the outdoors, or exercise any of my Constitutional rights, I should not be restricted from doing so by a would-be-dictator."
References:
https://edition.cnn.com/2020/04/26/politics/law-enforcement-politicians-coronavirus/index.html
https://www.krem.com/article/news/health/coronavirus/republic-police-chief-calls-stay-home-order-a-draconian-restriction/293-1ae16bba-9320-477d-9a98-9967ea7a9743
Featured image: https://www.ibtimes.sg/coronavirus-rebels-protesters-hit-san-diego-streets-covid-lie-slogans-43891