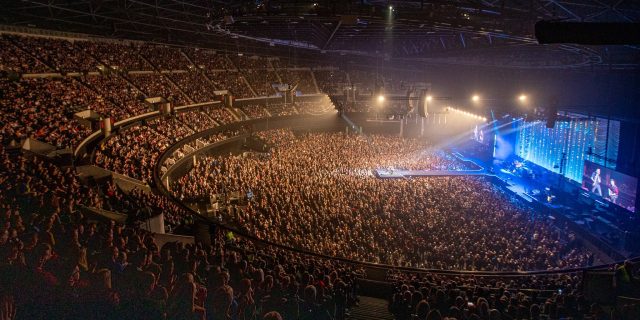 Amidst the COVID-19 quarantine measures by the government throughout the United Kingdom, the band from Welsh Stereophonics still performed in Manchester last Friday, March 13 with tens of thousands of attendees. This was repeated on Saturday in Cardiff and also on Sunday. Many of their fans reacted to this negatively and commented on their Facebook page. One person said, "I love Stereophonics but this is just irresponsible".
This is a huge issue as many famous bands, not only from Europe, cancelled their concerts throughout Asia, the United States, and Europe while many major festivals were also postponed due to the alleged pandemic which is now many people still question and doubted. Green Day, Guns N' Roses, Tool, Alice Cooper, the Jonas Brothers, Alicia Keys, The Pussycat Dolls, and Slipknot were some of these.
On Sunday, Stereophonics spokesperson defended their decision on the British music magazine NME saying: "Along with the rest of the country, we watched the prime minister and chief science and medical officer brief the nation on Thursday evening regarding the government's policy and advice on Covid-19. The UK government's position was that at this phase there was no need for a ban on large public gatherings. Acting on this guidance, we continued with the last three shows of our UK tour on Friday, Saturday and Sunday as did many other events across the entertainment industry."
Another show that was canceled due to the COVID-19 fear was the annual Korean music festival at the Hollywood Bowl. Meanwhile, the Boston Symphony Orchestra also canceled their 2020 Asian tour. Green Day, which scheduled their series of shows from March 8 to 28 in places like Taiwan, Thailand, South Korea, Japan, the Philippines, and Singapore, also decided to cancel due to the so-called "novel coronavirus".
Interestingly, it is first time that a "vaguely" identified disease reached global concern. The most dominant authority on the issues of health in the planet, the World Health Organization (WHO), has decided to declare it a pandemic. Meanwhile, the website cancer.org reported there are 4,800 new cases of cancer each day. In addition, other chronic illnesses such as diabetes, heart disease, and hypertension also claim unimaginable number of lives per day. Lastly, according to Food and Agriculture Organization (FAO), "25,000 people lose their lives every day as a result of hunger". Yet, it seems that the world is not worried about this just like how they react to COVID-19 today.
References: