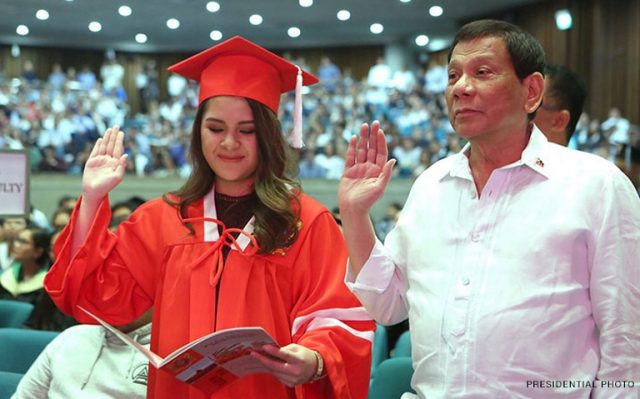 MANILA — Since assuming presidency in 2016, President Rodrigo R. Duterte has had to skip several events and occasions due to different reasons.
However, on Thursday, Duterte attended the graduation ceremony of his 18-year-old granddaughter, Isabelle Lovelie Duterte, at the Philippine International Convention Center (PICC).
Isabelle is the daughter of former Davao City vice mayor Paolo Duterte and his wife, Lovelie Sangkola-Sumera, who were both present during the rites.
She was among the first batch of senior high school graduates of San Beda College Alabang who graduated under Humanities and Social Sciences (HUMSS) strand.
Duterte arrived at the PICC Plenary Hall at 9:50 a.m., accompanied by Special Assistant to the President (SAP) Christopher Lawrence "Bong" Go and PICC General Manager Atty. Renato Padilla.
Duterte, who is also a San Beda alumnus, allowed several students to take photographs with him.
He also went up to the stage and greeted the officers and staff of San Beda College Alabang before the end of the commencement exercises. (PNA)
By Azer Parrocha
[zombify_post]