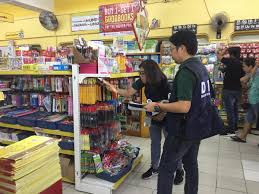 MANILA — The group of Alpha Phi Omega United Corporate Social Responsibility (APO CSR) and the Presidential Communications and Operations Office-News and Information Bureau (PCOO-NIB) on Thursday led the dental and medical mission in Barangay 188, Tala, Caloocan City.
Dr. Melhammid "Prince" Tomawis, chairman of APO CSR Committee, said they chose the Muslim area as recipient of the outreach activity to make the residents feel they are still being cared for by society.
The former Muslim barangay captain in the area was reportedly killed in the ongoing drug war of the Duterte administration.
"Pinuntahan natin ito para maipakita natin na itong mga tao na nangangailangan ng tulong ay di naman sila lahat ay masasama," (We went to this place to show those people who need assistance that they are not outcasts) said Tomawis in an interview with the Philippine News Agency (PNA).
Aside from APO CSR and PCOO-NIB, Tomawis also tapped other government and non-government organizations as partners, including IConform Constitutional Reform Federal Philippines, Bangsangmoro Youth for Peace, Muslim Medical Student Association, Malacanang Geriatrics Senior Citizens Group, the Philippine Navy, and the Doctor's to the Barrios Medical Association.
"Pinapakita namin na kailangan nating magkaisa sa serbisyo (We want to show them the need to unite to deliver the services) regardless of any religion, regardless of any faith, regardless of any political affiliation," Tomawis said.
The free medical consultation included blood pressure monitoring and distribution of some medicines to the children, tooth extraction and surgical circumcision among young boys.
Several undernourished children, on the other hand, were fed by their partners from Ford Rangers East Phil. Inc., which also distributed rubber slippers to the children.
Meanwhile, the PCOO-NIB group, headed by Joy Roque, provided free haircut, massage therapy, and acupressure services.
Roque said the services were in line with the recent celebration of Mother's Day where they served women and the elderly.
Almost 100 outreach activities had been conducted by the APO group in different areas of the country in a span of two years.
Meanwhile, to ensure that residents would be properly enlightened on the illegal drug war of President Rodrigo R. Duterte, talks on the subject matter were also conducted.
The group also gave lectures on anti-extremist campaign to prevent them from being recruited by some rogue Muslim groups.
"It is important to also give lecture on anti-extremism since we know that usually, the young people are the target as recruits of ISIS (Islamic State of Iraq and Syria) terrorist group," Tomawis said. (PNA)
By Leilani Junio
[zombify_post]