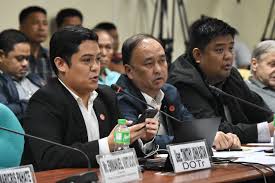 MANILA — Transportation Undersecretary for Railways Timothy John Batan Jr. said Saturday that the allegations of his subordinate about the Mindanao Railway Project are 'false and malicious'.
Batan issued this statement following claims by Transportation Assistant Secretary Mark Tolentino in a press conference Friday that higher officials of the Department of Transportation (DOTr) are derailing the project.
"I would like to think that what we have here is a miscommunication, resulting from a person's refusal to understand relevant issues, and what appears to be a trickle of malice," Batan said in a statement Saturday.
The undersecretary denied that Tolentino was barred from speaking about the Mindanao Railway Project.
"One, Asec. Tolentino was not stopped from speaking, he was only asked to postpone his press con(ference) to give deference to ongoing high level discussions about the best strategy to implement Mindanao Railway; and two, Asec. Tolentino was fully informed of the reason why he was asked to postpone his press con, but he refused to listen and understand," according to Batan.
He clarified that Tolentino was instructed to defer his media briefing amid ongoing discussions on whether to finance Phase 1 of Mindanao Railway from China's Official Development Assistance (ODA).
"I told him, and I quote: Just to be clear, all I'm saying is for the press con to be postponed until after our strategy is firmed up based on the upcoming meeting of Ambassador Zhao (Jianhua) and SoTr [Secretary of Transportation]. Let us please give deference to our principal, and not pre-empt him with a press con that will likely raise issues that we know will be the subject of upcoming principals' discussions," Batan said.
"Sometimes it is easier to dismiss an issue by name-calling, instead of exerting efforts to study and understand. Large scale infrastructure projects get built with hard work, diligence in understanding complex issues that ensure successful implementation, and perseverance in resolving issues that will lead to project failure. Mindanao Railway will not be built with name-calling, rumor mongering, and grandstanding," he added.
For her part, DOTr communications director Goddes Hope Libiran questioned Asec. Tolentino's claim that he has a Special Order authorizing him to speak about the Mindanao Railway.
The Special Order given to Tolentino states that he must directly report to the Secretary and Undersecretary for Railways, according to Libiran.
Moreover, DOTr Sec. Arthur Tugade has issued a memorandum setting a Media Affairs Protocol, wherein the endorsement of the concerned Undersecretary, the Director for Communications and the Secretary, are needed before a press conference is held.
"Asec. Mark Tolentino's press con yesterday was not only unauthorized pursuant to the DOTr media protocol– it was held in defiance of clear, repeated, and explained instructions coming from me, Usec. Batan, and, most importantly, Sec. Tugade," Libiran said.
She was likewise dismayed by Tolentino's "arrogance" and for dragging the name of President Duterte and members of the First Family.
In his press briefing, Tolentino claimed that he was only accountable and responsible to the President and that he has the "blessings" of the First Family.
"Let me also point out that all of us are responsible and accountable to the President. But, saying that in the context of unfounded anger, setting aside the instruction of his undersecretary, Usec. TJ Batan, and DOTr Secretary Art Tugade, is arrogance in its highest order," Libiran said.
The first phase of the Mindanao Railway project involves the construction of a 105 kilometer Tagum-Davao-Digos segment, which is expected to reduce travel time from Tagum City, Davao del Norte to Digos City, Davao del Sur from three and a half hours to one hour and 20 minutes once it is completed in 2021.
The proposed 2,000-kilometer railway project is envisioned to connect key Mindanao cities including Davao, Zamboanga, Butuan, Surigao, Cagayan de Oro, Iligan, and General Santos to spur economic development in the region. (PNA)
By Aerol John Pateña
[zombify_post]