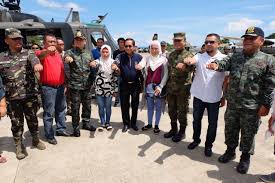 MANILA — The Armed Forces of the Philippines (AFP) is now more capable of defeating and neutralizing terrorists following the conclusion of this year's Balikatan exercises.
AFP chief-of-staff Gen. Carlito Galvez attributes this capability to the added learning and experiences obtained by Filipino troops to decisively address terrorism.
He made this point during the closing ceremonies of the two-week "Balikatan" exercises last Friday in Camp Aguinaldo, Quezon City.
"It can be said that this year's culmination is very timely and relevant to the AFP as we also near the first year commemoration of the Marawi Siege and its eventual liberation from the hands of the Maute and the ISIS terrorists. Through (an) event such as this, the AFP is now more ready and more capable to defeat enemies of the state," Galvez stressed.
The fighting in Marawi City started May 23 and ended on Oct. 23.
Over 1,000 Maute-ISIS terrorists were killed in the fighting including ISIS Emir in Southeast Asia, Isnilon Hapilon, and Omar Maute, the founder of the terror organization. Around 200 soldiers and civilians died in the fighting.
This year's "Balikatan" exercises gave special focus on counter-terrorism operations, disaster relief and mutual defense.
Around 5,000 Filipino and 3,000 American soldiers participated in this year's 'Balikatan' activities that started mid-April, prior to the opening ceremony last May 7.
Troops from the Australian Defense Force and Japan Self-Defense Force also joined some of the exercises. Their participation was under the ambit of the US alliance system. (PNA)
By Priam Nepomuceno
[zombify_post]