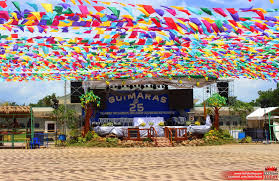 MANILA — The Department of Public Works and Highways (DPWH) announced the completion of the 1.7-kilometer road improvement works along the Guimaras Circumferential Road in Guimaras Province, in time for the annual celebration of the "Manggahan Festival" this month.
DPWH Guimaras District Engineer Rhodora Nuñal said the road repair along the San Miguel, Jordan section of the Guimaras Circumferential Road was done to provide better traffic access to both foreign and local tourists that are expected to flock the province for the festivity.
"We ushered the completion of these projects, particularly fronting the Provincial Capitol, which will be very busy during the whole duration of the festival," Nuñal said in a statement.
The DPWH official reported that they are also implementing the construction of a drainage system, which is about 6.5 kilometers long, on the Guimaras Circumferential Road. It costs about PHP73.1 million.
Nuñal noted that the portion of the drainage, particularly at the front of the Provincial Capitol, was completed while work in the other portions were suspended so as not to obstruct traffic during the celebration.
The Manggahan Festival is a month-long celebration that aims to showcase the culture of the entire province of Guimaras.
The festival is organized by the province's five municipalities–Buenavista, Jordan, Nueva Valencia, San Lorenzo, and Sibuang. (PR)
By Ferdinand Patinio
[zombify_post]