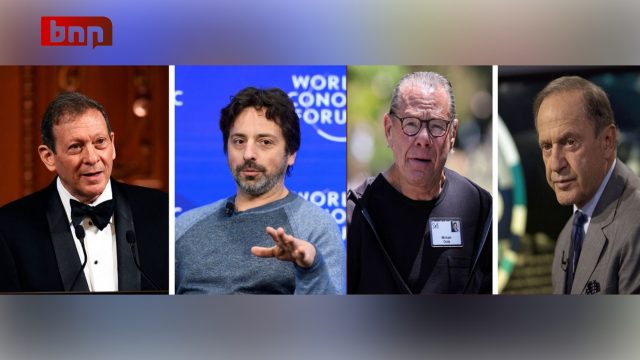 On Friday, the U.S. Virgin Islands issued subpoenas to four billionaires Mortimer Zuckerman, Thomas Pritzker, Michael Ovitz, and Sergey Brin regarding the civil lawsuit filed against JPMorgan Chase & Co. in relation to Jeffrey Epstein's sex trafficking cases, according to the Wall Street Journal report.
The news came after a Manhattan federal judge shot down the bank's attempts to have the case dismissed last week. Usually in civil cases, the purpose of the subpoenas being used by lawyers is to gather more information from the people who can possibly provide evidences related to the case.
The four magnates, who are among the wealthiest people in the US, are still not giving comment until now. Zuckerman is the owner of World Report and U.S. A Canadian-American billionaire and co-founder, executive chairman and former CEO of Boston Properties, a big real estate trusts in the US. Thomas Pritzker is the chairman and CEO of the Pritzker Organization and the executive chairman of the Hyatt Hotels Corporation.
Sergey Mikhailovich Brin is the co-founder of Google. He was also the president of Google's parent company, Alphabet Inc. Michael Ovitz, on the other hand, is a wealthy investor in the US. He worked as a talent agent in Hollywood and he also co-founded Creative Artists Agency in 1975, serving as the chairman until 1995 and then later served as a president for Walt Disney Company from October 1995 to January 1997.
Last year, the US Virgin Islands, together with an unknown woman, sued JPMorgan in a federal court in Manhattan for, according to the complaint, facilitating Jeffrey Epstein's sex trafficking activity by allowing Epstein to transfer money to his underage victims. The lawsuit also alleges that JPMorgan tolerated Epstein because it "receives referrals of high-value business opportunities". JPMorgan, however, denies this accusation saying they have nothing to do with Epstein's illegal activities.
JPMorgan made an effort to have the case dismissed but the Manhattan federal court blocked the bank's attempt. This happened two weeks ago. The bank has sought to blame its former executive Jes Staley, claiming that Stayley concealed its personal relationship with the convicted pedophile. JPMorgan sued Mr. Stayley for this accusation. Mr. Staley, however, denied he had a knowledge and participation on Jeffrey Epstein's sex trafficking operation even though he and Epstein are friends.
References:
https://www.wsj.com/articles/google-co-founder-other-billionaires-are-issued-subpoenas-in-lawsuit-over-jpmorgans-ties-to-jeffrey-epstein-cbb97f62
https://www.forbes.com/sites/nicholasreimann/2023/03/08/jpmorgan-sues-former-executive-jes-staley-over-jeffrey-epstein-connections/?sh=5953135bed50
Featured image: https://bnn.network/breaking-news/billionaire-google-co-founder-sergey-brin-and-other-top-names-billionaires-thomas-pritzker-mortimer-zuckerman-and-michael-ovitz-subpoenaed-in-jpmorgans-jeffrey-epstein-lawsuit/