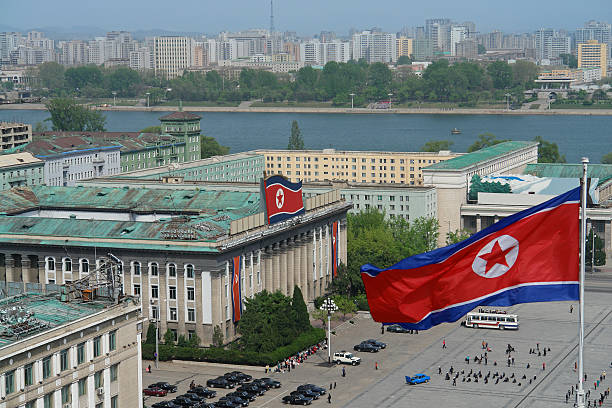 Major news sources recently reported that North Korea's leader Kim Jong-un has called for an emergency meeting to come up with effective agricultural solutions that will bring "fundamental transformation" in response to the country's worsening food shortage.
Sighting the Korean Central News Agency (KCNA) as the source of the information, the Washington Post, along with Reuters and other media networks, has reported that last week Kim Jong-un has convened its officials in a four-day ruling Worker's Party meeting to address the said agricultural crisis, stressing that "farming goals should be settled without fail".
In addition, North Korea's leader was also quoted saying that "in order to attain the gigantic long-term objective of rural development, it is necessary to decisively strengthen the party guidance over the agricultural sector and improve the rural party work", and that "all state sectors and units must provide mental and moral, material and technical support and assistance to the rural communities" while also emphasizing the "importance of the growth of the agricultural productive forces" according to various reports.
Aside from its strict border lockdown as a response to COVID crisis, the international community is also imposing strict sanctions on North Korea because of its ballistic missiles and nuclear weapons programs that's why the communist country is now suffering a great food shortage.
On January, 38 North, a monitoring project based in the United State, reported that "food availability has likely fallen below the bare minimum with regard to human needs".
Aside from that, assessment reports such as from the Peterson Institute for International Economics, the United Nations, and South Korean authorities also show that the growing concerns about North Korea's food supply are valid. Even Seoul has announced that "deaths occur in some areas of the country". And during the pre-COVID era, it was reported by the UN's Food and Agriculture Organization (FAO) that "nearly half of the North Korean population was undernourished".
Meanwhile, the Chinese customs data also show that North Korea has imported almost 56 million kilograms of wheat from China and nearly 54,000 kilograms of cereals.
Experts point to the leader's mismanagement of the country's economy and to its isolationist tendency as the cause of North Korea's problem. According to Lina Yoon, a senior researcher at Human Rights Watch:
"The North Korean borders need to open and they need to restart trade and they need to bring these things in for agriculture to improve and they need food to feed the people. But right now they are prioritizing isolation, they are prioritizing repression".
References:
https://www.theguardian.com/world/2023/feb/28/north-korea-food-shortages-kim-jong-un-agriculture-grain-targets-sanctions
https://apnews.com/article/russia-ukraine-politics-china-south-korea-government-north-e35fcb60b98d783960c80ea94ff97d20
https://www.washingtonpost.com/politics/north-korea-food-shortage-kim-jong-un/2023/03/01/c1185c80-b897-11ed-b0df-8ca14de679ad_story.html
https://edition.cnn.com/2023/03/03/asia/north-korea-hunger-famine-food-shortages-intl-hnk/index.html