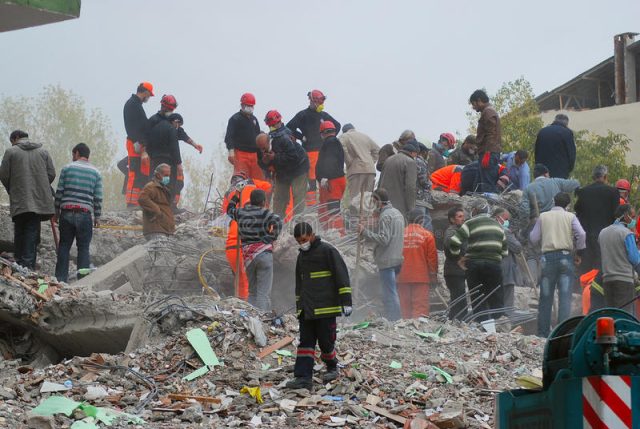 Following the 7.8 magnitude earthquake that killed more than 50,000 people in both Syria and Turkey last February 6, another quake jolted Turkey on Monday, February 27, causing the already damaged buildings to completely collapse while leaving more rubbles, injuries, and even death.
The tremor, which occurred mainly in the southern part of Turkey, was said to have recorded 5.6 in magnitude. According to the Disaster and Emergency Management Authority (AFAD), at least one person was killed while more than a hundred in total were injured by the catastrophic quake which destroyed more than two dozen buildings.
According to AFAD's chief Yunus Sezer, the central part of the earthquake was in Yesilyurt in Malatya province. HaberTurk television reported the heart-breaking incident of a father and daughter trapped underneath a 4-story building in town after it collapsed from the quake. According to an interview, the father and his daughter were trying to collect their belongings when the disaster occurred.
Since the devastating tremor on February 6, which is said to have damaged 5,700 buildings in Turkey, including the smaller structures, volunteers and search-and-rescue teams are still doing the operation up to now and continue to find people, dead or still alive.
Reports also stated that there were around 10,000 aftershocks felt since the February 6 quake. People were warned by the AFAD authorities to stay away from damaged buildings just in case aftershocks occur to avoid serious risks. Also, AFAD's general director of the earthquake and risk reduction, Orhan Tatar, stated in an interview that the region had undergone four quakes within three weeks.
Meanwhile, some Turkish citizens blame their government for having "insufficient" actions against the catastrophe, claiming that the government's response was "very slow". Some also point out the authorities' failure to effectively enforce building regulations as one of the main reasons for the country's devastation. On February 26, the day before the second huge tremor in Turkey, CNN reported that there were nearly 200 people arrested, said to have been responsible for the substandard construction projects which led to the death of thousands of Turkish people.
Sources: