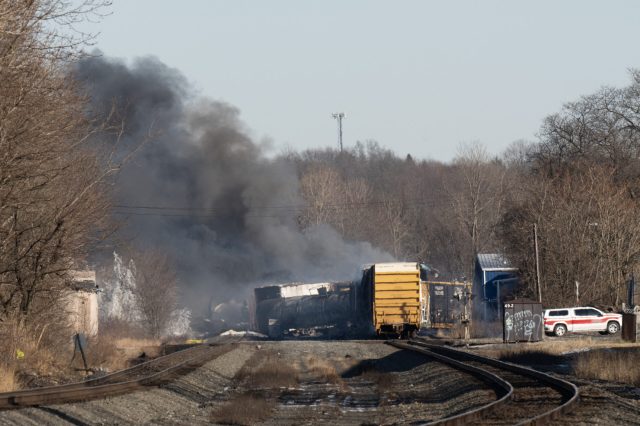 Despite being downplayed by the Ohio governor and the US Environmental Protection Agency (EPA), forestry workers and residents of Palestine, East Ohio claim that animals continue to die and that numbers have reached an "alarming rate" as a result of the train derailment accident that occurred last February 3, 2023.
The Ohio Star reported recently that officials working in the area said that they have received hundreds of calls reporting animal deaths in Ohio's parks. In addition, the report also claimed that laboratories across the country are finding evidence of severe toxicities from animal specimens that are being examined, including from non-aquatic animals such as deer, elk, pigs, goats, chickens, etc. The high levels of toxic chemicals found in the samples are "the exact chemicals that were released from East Palestine", according to the source interviewed by The Ohio Star.
On February 3, ten train carriages carrying hazardous chemicals caught an accident in East Palestine due to a derailment, causing the death of thousands of aquatic animals and the evacuation of hundreds of residents.
Within three weeks, it was estimated by the ODNR (Ohio Department of Natural Resources) that there were more than 43,000 animals which have died from the accident, including "38,222 minnows and around 5,550 other species".
Aside from the toxic fumes containing vinyl chloride, the EPA also reported that there were four more harmful chemicals identified that have leaked into the soil, water, and air, namely ethylhexyl acrylate, isobutylene, ethylene glycol monobutyl ether, and butyl acrylate.
According to the report by Ohio Star, the number of East Ohio residents reporting about health problems after the catastrophic derailment has also increased tremendously, claiming some have been diagnosed with lung problems, including bronchitis. The press added that nurses and doctors suspect that the said problems are possibly due to chemical exposure and also alleged that the governor of Ohio, Michael Dewine, is preventing the scientists from investigating the incident.
Meanwhile, Murray & Murray, a law firm based in Sandusky filed a class action suit against Norfolk Southern, the company responsible for transporting the said hazardous chemicals.
References:
Featured image: https://insideclimatenews.org/news/08022023/ohio-train-derailment-pvc-plastic/