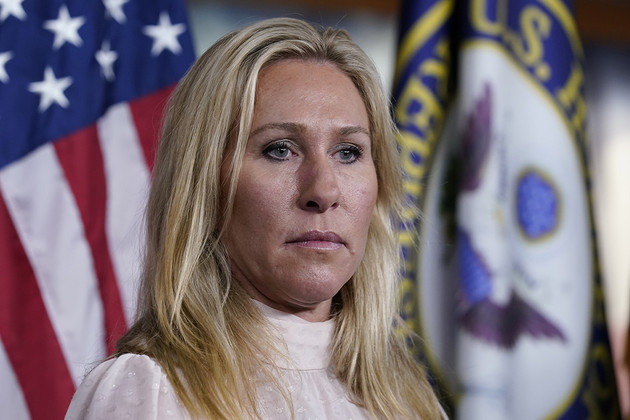 At a press conference last Tuesday, Georgia Republican U.S. Rep. Marjorie Taylor Greene announced a bill that would make providing "gender-affirming" medical procedures or medications to minors a felony. With penalties of up to $250,000 in fines and 10 to 25 years in prison for doctors who perform "gender-affirming" procedures, the bill would make providing "gender-affirming care" to children a class C felony violation. And, any foreign national who is proven to have rendered such treatment prior to receiving a visa will have their visa denied and will not be admitted to the United States.
Ten Republican lawmakers joined Greene at the announcement last Tuesday, bringing the total number of sponsors to 42. The bill would also ban federal employees from providing such treatment allow minors to sue those responsible for any "care" they received, prohibit taxpayer-funded insurance plans from covering gender-based treatments, and ban higher education institutions from teaching about gender-affirming care.
The Protect Children's Innocence Act, which Greene introduced in August, is intended to prevent "children from being fast-tracked into permanent harm to their bodies before they're old enough to vote, get a tattoo, buy tobacco, join the military, often drive a car, and go see an R-rated movie," according to Greene, who spoke at the press conference. According to research, only 2% of boys and 10% of girls with gender dysphoria go through puberty. This is according to the Diagnostic and Statistical Manual of Mental Disorders published by the American Psychiatric Association. Both puberty blockers and cross-sex hormones have been linked to serious and potentially fatal side effects, such as cardiovascular diseases, and neither has been FDA-approved for treating gender dysphoria or has been put through rigorous clinical testing on young people who are confused about their gender.
In May, a law identical to Greene's proposed bill was passed in Alabama, outlawing medications and sex change procedures on children and punishing offenders with up to ten years in jail. Meanwhile, Tennessee has prohibited prepubescent children from using hormone drugs, while Arizona banned juvenile sex change surgery in April. In May, the Texas Supreme Court overturned an injunction imposed on Abbott's order by a lower court, directing state agencies to look into any report of Texas children receiving gender-transitioning treatments.
In August, a bill that would make California a sanctuary for minors seeking gender-affirming care was approved by the state's legislature. This would shield minors and their parents who wanted to receive transgender medical procedures or medications from legal repercussions in their home states. Democrat-controlled states are removing parents' rights to safeguard their children from these dangerous surgeries.
References:
https://www.theepochtimes.com/republican-legislators-support-bill-prohibiting-gender-affirming-care-to-minors_4743223.html
https://thehill.com/changing-america/respect/equality/3607955-marjorie-taylor-greene-introduces-bill-to-make-gender-affirming-care-for-transgender-youth-a-felony/
Featured image: https://www.politico.com/news/2022/01/02/twitter-bans-greene-covid-526362