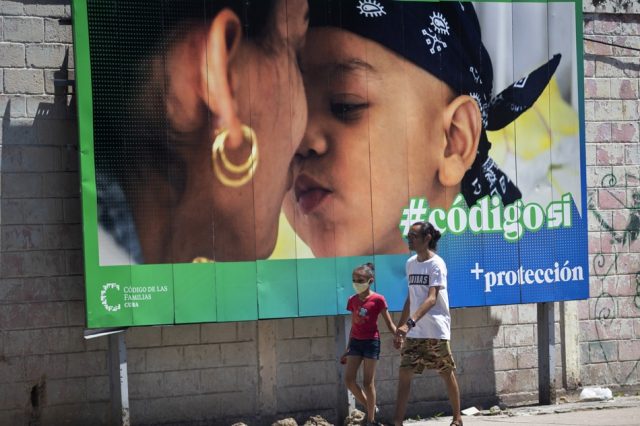 Officials in Cuba announced on Monday that the island had approved extensive amendments to its family code that included provisions for same-sex marriage, surrogacy, and adoption. Under the new family code, it is said that greater protections for women, children, and the elderly are guaranteed under the new family code, which also permits marriage and adoption for couples in the LGBTQ community.
The amendment was approved in what the Associated Press called an "extraordinary referendum" for the communist country, which often has electoral margins of victory of 90% or greater. The country's electoral council reports that with 74% of the 8.4 million eligible voters participating, the proposed reforms were approved by 66.9% of voters and rejected by 33.1%.
On Monday, the nation's president, Miguel Dáz-Canel, tweeted his congratulations on the vote's success and expressed his support for the outcome, saying "love is now the law". The number of persons who voted in favor of legalizing same-sex marriage was updated in the bio on the official Twitter account of the Cuban government.
In 2019, the communist nation deleted language that restricted marriage to unions between a man and a woman from its Constitution. Even after the legalization of homosexuality in Cuba in 1979, many gay men and women said they were still subjected to blatant discrimination.
Meanwhile, Raul Castro's daughter Mariela has publicly pushed for increased rights for homosexuals, lesbians, and transgender individuals. However, the Cuban government's internal and external critics were fierce in their resistance to the movement for more equality. Cuba's referendum took place in the midst of a larger international movement to adopt more liberal positions on marital and family matters. The majority of Latin American nations do not recognize same-sex "marriage," although some have after Argentina became the first to do so in 2010, this includes Mexico, Brazil, Costa Rica, Ecuador, and Colombia.
According to the Miami Herald, nearly two million individuals opposed the measure out of a total of 5,892,705 valid ballots cast, while the Catholic Church in Cuba attacked many aspects of the plan, asserting that it is a child's right to have a father and a mother. According to the statements from Cuban bishops:
"It is positive in this proposed law presented, among others, the precision with which violence within the family is rejected, the way in which the rights of grandparents are collected and protected, the way in which the care for the elderly, people with disabilities and the vulnerable.
We also welcome the recognition of the provisions of the Convention on the Rights of the Child and that, in various areas, the obligation to provide food and care for those left in unfavorable situations and during pregnancy is explicitly stated. This, however, cannot ignore the questioning, criticism, and rejection of an important sector of our society, which are based on legitimate principles, values, the human and biological sciences, our history."
References:
https://apnews.com/article/religion-cuba-caribbean-gay-rights-0576a6d3583959d9252e252964d152bb
https://iglesiacubana.org/cocc/pages/articles/1926
Featured image: https://news.abs-cbn.com/overseas/09/25/22/cuba-to-hold-referendum-on-same-sex-marriage