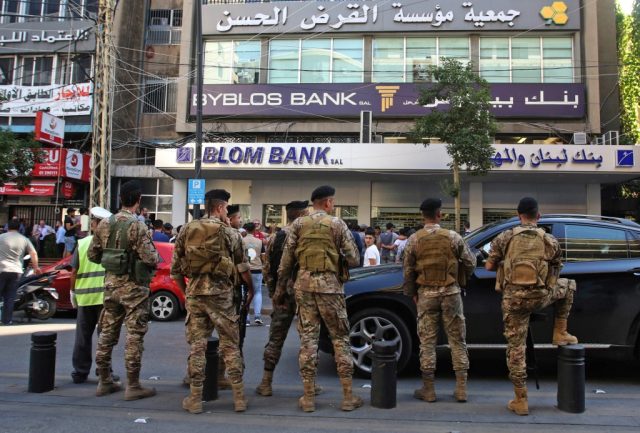 On Wednesday, a woman entered a bank office in Beirut while carrying what she claimed was a toy pistol from his nephew, demanding the personnel to release the remaining funds from her long-held account. While being escorted by activists, Sali Hafez has managed to retain $13,000 from the bank. According to her in an interview:
"I had begged the branch manager before for my money, and I told him my sister was dying, didn't have much time left. I reached a point where I had nothing else to lose."
According to Hafez, the funds were required to pay for her sister's cancer treatment. She claimed that despite numerous requests to the bank, each time she was informed that she could only receive $200 in Lebanese pounds every month. Desperate about the situation, Hafez broke into the manager's office of the BLOM Bank branch along with activists from a group called Depositors' Outcry. AS seen in the said video, they forced the staff to give them the amount of $13,000.
Hafez said that she had savings worth a total of $20,000 in that bank. She also claimed that in order to pay for her 23-year-old sister's cancer treatment, she had previously sold a lot of her personal possessions and had even thought about selling her kidney just to help her sister. In a livestreamed video that she shared on Facebook, Hafez claimed that she had no intention to hurt people. She claimed:
"I did not break into the bank to kill anyone or set the place on fire. I am here to get my rights."
While some of the activists protested outside the entryway, others went inside the bank with Hafez. According to witnesses, Hafez eventually fled with money in a small bag. In Lebanon, where many people are struggling to make ends meet and recover their funds, Hafez is hailed as a hero. She encouraged others to do something in order to recover their savings.
Meanwhile, Alaa Khorchid, the leader of the protest movement Depositors' Outcry, also claimed that a guy who was in communication and coordination with the group robbed a bank in the mountain hamlet of Aley to take his trapped savings. According to local media, the man entered the BankMed branch alone and had a shotgun with no rounds loaded, but he was unable to get his savings out before being caught. A number of the activists were taken into custody by security personnel stationed outside, including a man who appeared to be holding a weapon. It wasn't immediately obvious if this was a toy gun as well.
The occurrences happened a few weeks after a food delivery driver broke into a Beirut bank branch and held 10 staff hostage for seven hours while demanding his frozen money, which totaled tens of thousands of dollars. He was recognized as a hero by most. The government calculates that since the start of the currency crisis, losses in the slow banking sector have totaled between $68 billion and $69 billion. The World Bank has issued a warning that the current economic crisis may be one of the three worst to hit the globe since the middle of the 19th century.
Since 2019, Lebanon's banks have placed stringent restrictions on currency withdrawals, locking away the savings of millions of people. As the nation's economy continues to get worst, about three-quarters of the population has fallen into poverty. For more than two years, Lebanon has been struggling to carry out its duties while it frantically tried to enact crucial changes in its crippled banking industry and economy. While its parliament is divided, it has been unable to come to terms with the International Monetary Fund (IMF) on a recovery plan that would release billions of dollars in foreign loans and help to restore the country's economy.
Watch the interview here:
Featured image: https://www.timesofisrael.com/lebanese-cafe-owner-hailed-for-robbing-bank-to-get-his-own-money/