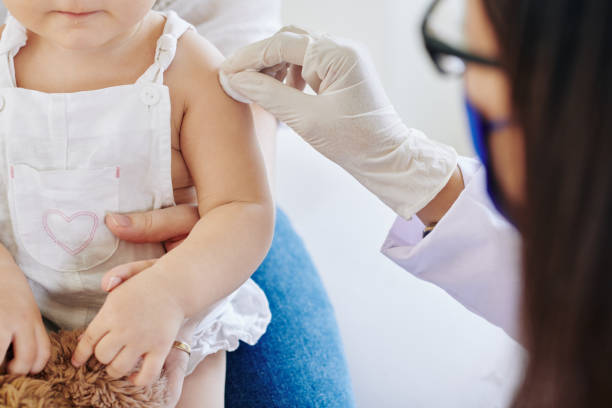 Despite so many red flags and safety concerns issues, the US Food and Drug Administration (FDA) and the Centers for Disease Control and Prevention (CDC) have given the emergency use authorization (EUA) for Moderna and Pfizer-BioNTech COVID vaccines for 6 months old babies up to 4 years old.
Amending the EUA, the FDA insists that their "evaluation and analysis of the safety, effectiveness and manufacturing data of these vaccines was rigorous and comprehensive" and that they are "determined that the known and potential benefits of the Moderna and Pfizer-BioNTech COVID-19 vaccines outweigh the known and potential risks in the pediatric populations authorized for use for each vaccine".
Administered through a system different from Moderna, the Pfizer-BioNTech COVID vaccines are a series of three doses in which "the initial two doses are administered three weeks apart followed by a third dose administered at least eight weeks after the second dose in individuals 6 months through 4 years of age". However, just recently, this company has been under tremendous fire from the public when the court finally released its data.
Meanwhile, in the same memorandum regarding the EUA, the FDA also admitted that there are actually problems that could really show factors for experts to think twice or even refuse to approve. Issued on June 17, 2022, the FDA's memo states:
"The FDA and CDC safety surveillance systems have previously identified increased risks of myocarditis (inflammation of the heart muscle) and pericarditis (inflammation of tissue surrounding the heart) following vaccination with the Moderna COVID-19 Vaccine and the Pfizer-BioNTech COVID-19 Vaccine, particularly following the second dose. The observed risk is highest in males 18 through 24 years of age for the Moderna COVID-19 Vaccine and in males 12 through 17 years of age for the Pfizer-BioNTech COVID-19 Vaccine."
As always, along with the mainstream media, these two agencies downplay these safety issues, claiming that myocarditis and pericarditis associated with the Pfizer-BioNTech and Moderna mRNA COVID-19 vaccines are not serious and that patients usually recover easily; having no negative impact on the person's quality of life. However, the truth is the opposite. Their own records, VAERS (vaccine adverse events reporting system) and EudraVigilance, clearly show that these issues are not rare but instead, have become common these days.
If you really take a moment to pay attention carefully, you will see red flags even in some of the information they put out on their website. For example, in describing the actual symptoms of serious adverse effects from the vaccines being administered, the FDA divulged this very alarming information:
"In clinical trial participants 6 through 36 months of age, the most commonly reported side effects also included irritability/crying, sleepiness, and loss of appetite. In clinical trial participants 37 months through 5 years of age, the most commonly reported side effects also included fatigue, headache, muscle ache, chills, nausea/vomiting and joint stiffness."
Ironically, these agencies require manufacturers to monitor the recipients of their vaccines and report any suspected adverse cases but on the other hand, ignore the call of thousands of experts vigilantly watching the statistics and the science behind clinical trials. According to the same memo itself:
"It is mandatory for both ModernaTX Inc. and Pfizer Inc., as well as vaccination providers, to report the following to the Vaccine Adverse Event Reporting System (VAERS) for these two COVID-19 vaccines: serious adverse events, cases of Multisystem Inflammatory Syndrome and cases of COVID-19 that result in hospitalization or death. It is also mandatory for vaccination providers to report all vaccine administration errors to VAERS for which they become aware and for vaccine manufacturers to include a summary and analysis of all identified vaccine administration errors in monthly safety reports submitted to the FDA."
On the 7th of June, Health Impact News reported that there were "4,416,778 injuries and 45,316 deaths following COVID-19 Vaccines in European Database of Adverse Reactions". Using different scapegoats and diversionary tactics to deny the grim reality about vaccines, mainstream medicine fanatic healthcare workers and experts call it "Sudden Adult Death Syndrome" or SADS. Does it mean that they don't have an idea or cannot objectively point out the real culprit?
References:
Health Impact News
https://www.cbsnews.com/news/covid-vaccine-kids-under-5-pfizer-moderna-fda-authorize/
https://hub.jhu.edu/2022/06/16/covid-vaccines-for-children-under-five/
https://www.fda.gov/news-events/press-announcements/coronavirus-covid-19-update-fda-authorizes-moderna-and-pfizer-biontech-covid-19-vaccines-children#:~:text=The%20Pfizer%2DBioNTech%20COVID%2D19%20Vaccine%20is%20administered%20as%20a,through%204%20years%20of%20age.
https://jamanetwork.com/journals/jama/fullarticle/2788346
https://medalerts.org/vaersdb/findfield.php?TABLE=ON&GROUP1=CAT&EVENTS=ON&WhichAge=range&LOWAGE=.5&HIGHAGE=4&VAX_YEAR_HIGH=2020