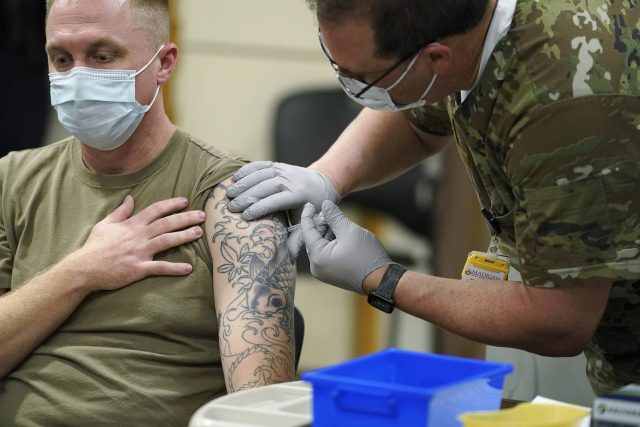 On September 7, 2021, some military members contacted Health Impact News (HIN) telling the team that there are commanders forcing soldiers to get the COVID19 shot or else they may face consequences for disobeying the order. According also to one of them, many military members are "fearful" of the consequences if they don't follow their superiors. Meanwhile, the "sailors and marines" have been given 90 days to get their jab or else "face the punishment" for violating the so-called Uniform Code of Military Justice and the Air Force, aka the "Airmen and Space Force Guardians", has also been given a 2-month deadline to get their full shots or else get punished under the same violation of code.
According also to HIN, there are also members who are being threatened with "dishonorable discharge, or demotions, or being barred from reenlisting" if they refuse to take the COVID shots. Another sad part is that the Temporary Restraining Order (TRO) "representing 200,000 unvaccinated service members" filed on August 31, 2021 by Todd Callender, which aims to stop the coercive vaccination campaign on the military, was denied on September 1, 2021 by Judge Raymond P. Moore. Unfortunately, the Judicial System has again failed to protect the citizen's constitutional rights by denying the TRO for a reason that the medical stance of the plaintiffs runs contrary to the narrative of the Centers for Disease Control and Prevention (CDC), a very corrupt pseudo-scientific, big pharma dominated agency.
Meanwhile on the positive side, in Los Angeles, two separate police and firefighters groups have formed a resistance group against coercive COVID vaccine mandates for all the workers of the city. The 'Firefighters 4 Freedom' and the LAPD officers, under the banner 'Roll Call 4 Freedom', have joined together to stand for everybody's right to medical freedom; particularly the right to refuse this very dangerous experimental mRNA COVID vaccine which now have reached a very high level of fatality record.
On their website, Firefighters 4 Freedom stated:
We are a dedicated group of Professional Firefighters who believe in Liberty, Free Choice and our Great Country as well as the freedoms it provides.
Our Mission
As Stakeholders for the LAFD, (Los Angeles City Fire Department), our mission is to maintain human rights, constitutional rights, civil rights, and civil liberties as sovereign natural free human beings, and American citizens. We believe in the right to work, freewill, personal choice, medical freedoms, and consent without coercion, retaliation, threats, disciplinary action, or termination. This is not a vaccine versus non-vaccine issue, this is not a left verse right political issue. This is a human rights issue. We hope you stand with us, for we believe all members and citizens have the freedom of choice and natural rights. Your body, your choice. My body, my choice.
Our goal is to stop the mandated vaccinations for all City employees as well as the citizens of this great country. We want to bring education and truth to the people without being censored. Please stand with us in this monumental fight to preserve our Liberties.
Fighting for a counter bill that may stop a draconian medical mandate like forced vaccination is not easy as it is like fighting with the giants within the territory of the giants who got the judges and the politicians inside their pockets. How many chances do you think you have? Or will you find the situation totally absurd as you fight against the severely corrupt people and institutions that are, seemingly, built to maintain these social ills forever through our healthcare system? The likes of Dr. Anthony Fauci, the FDA, the CDC, WHO's Tedros Adhanon, who is not a doctor by the way, and currently the vaccine emperor Bill Gates with his Bill and Melinda Gates Foundation (BMGF) and GAVI, the Vaccine Alliance, all these entities, along with the big pharma companies, bankers, and their Wall Street billionaire friends, are obviously in-cohort with one another in maintaining this social distress we experience. Therefore, it is not important to focus on the questions but rather to focus on the answers and continue doing strategies that are effective such as those actions mentioned above. Using our constitutional rights, the real science, and the force we have together as the masses, we can surely stop and prevent all totalitarian government mandates. As what everybody is saying, this is not only about health, this is also about our future.
References:
Health Impact News dot com