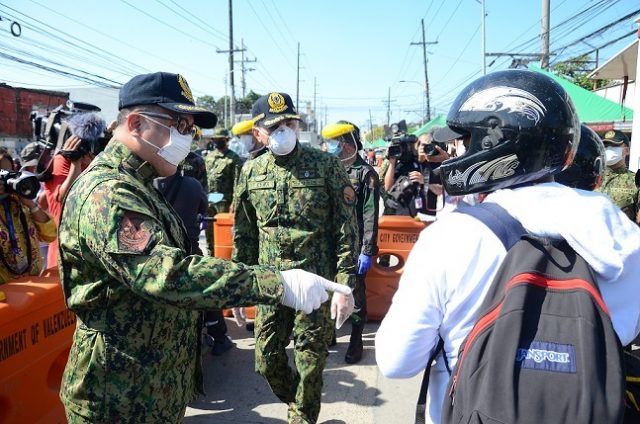 The controversial governor of Cebu (Philippines), Gov. Gwen Garcia along with two mayors Michael Rama of Cebu City and Mayor Junard Chan of Lapu-Lapu City expressed opposition to the heightened lockdown currently being implemented in Cebu Island. The lockdown being applied in many cities and provinces of the country started on the first day of August and claimed to be caused by the alleged new coronavirus Delta variant. Local experts, however, are skeptical about this claim while Cebu officials, including the regional directors who are members of the Regional Inter-Agency Task Force (IATF), united to appeal for a downgrade of the so-called modified enhanced community quarantine (MECQ) into general community quarantine (GCM). MECQ, according to these officials, is not a good option as it will further hinder the industries and hurt the economy in general; driving many Filipinos poorer.
In addition to those officials, the Mayor of Naga City Kristine Vanessa Chiong also expressed disagreement on quarantine measures being implemented by IATF right now in many parts of the country. As reported by Sugbo News:
"Lapu-Lapu City Mayor Junard "Ahong" Chan joined the meeting of mayors to talk about Covid-19 updates and care management in the whole island of Cebu, seeking for the Regional IATF to have the downgrading reviewed.
Chiong and Chan are one with the Provincial Government that imposing lockdowns has never been the right response to Covid-19 incidence."
Despite the heightened restrictions being placed upon many parts of Cebu, Mandaue, and Lapu-lapu, residents from these cities can still travel within and outside as these officials didn't conform to the IATF's mandate on tightening border control. Many netizens also claim that in many places of Cebu Island, people are free not to wear masks or follow any of those scientifically unsubstantiated protocols; especially regarding the claims of such alleged new Delta variant. Thanks to Gov. Gwen Garcia's effort in resisting the seemingly inhumane measures being put forward by the country's pseudo-science peddlers such as the IATF.
Meanwhile, speaking of unscientific mandates, the new guidelines for Cebu's GCM include:
"Public utility vehicles, taxis, buses and mini-buses are prohibited to use air-conditioning while transporting passengers, and shall keep their windows open at all times to ensure proper ventilation; and
Drivers, conductors must wear masks and personal air purifiers at all times and ensure that their passengers observe physical distancing."
Gov. Gwen Garcia has been critical to some of the Covid protocols since last year, especially when her two brothers, both politicians, died in the hospitals allegedly severely infected with Covid. Due to this experience, Gov. Garcia questioned the hospital protocols and even filed a case on certain doctors for different grounds, including medical fraud, malpractice, and overpricing. She also called out the alleged rampant and massive corruption in PhilHealth, the country's insurance company believed by many Filipinos to be the main "machine" being used by the current administration along with the Department of Health (DOH) for "extracting" money from patients labelled or thought as positive with the unproven virus. In June, Gov. Garcia attempted to defy the executive order (EO) for the protocols on overseas Filipino workers (OFW) and returning Filipinos from overseas in Cebu. However, the governor later deferred to IATF's protocols.
Recently, Gov. Garcia stated in an interview that she would not support punishing the unvaccinated even though she is planning to get the vaccine herself. According to her:
"It's everyone's constitutional right to decide for his or her own body. It's a choice. And I would defend that choice…
As far as vaccination is concerned, let it be incentivized rather than punitive. What do I mean? It's like, when you're vaccinated, as incentives, you may not be required to undergo RT-PCR test, shorten your quarantine stay, and all of these other concessions once you get vaccinated."
On early July, the president of Concerned Doctors and Citizens of the Philippines (CDCPh), Dr. Benigno "Iggy" Agbayani, also posted a statement on social media expressing disapproval for lockdowns being imposed on Filipinos as there are other alternatives and options available that are not only completely feasible but also cheap. According to Dr. Agbayani:
"We are against the ineffective general lockdowns that have caused more severe damage to the livelihood of our working class and poor, economic downturn, increased mental health issues, dminished education quality and the severe lack of attention to other deadly health issues like TB, dengue, diabetes, cancer, stroke and heart disease."
References: