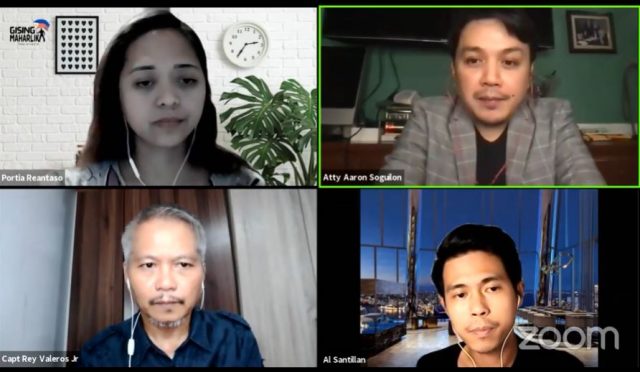 Last July 24, the whole world celebrated the Worldwide Rally for Freedom or Worldwide Demonstration (WWD), a global protest against inhumane Covid protocols and draconian mandatory vaccination. In the Philippines, people from different cities and provinces have also participated to support this simultaneous global action. This is because many Filipinos are now waking up from the lies of the mainstream media and stopped believing the official narrative by the country's Department of Health (DOH), PhilHealth Insurance, Food and Drug Administration (FDA), and different hospitals. Many Filipinos are now fed up and very upset with the government's inaction and seemingly participation in the on-going coronavirus scandal being complained by many people not only in the country but around the world.
On this day, a lawyer from Manila named Aaron Soguilon, along with Gising Maharlika, a loose group of Filipino citizens petitioning against lockdown and other protocols that they claimed unscientific, have also released the template letter for the so-called "declaratory relief", an official complaint against coercion, hospital fraud, and mandatory vaccination in the workplace. Attorney Soguilon and Gising Maharlika co-organized the WWD event in the Philippines together with different individuals and groups. In a video conference with the Gising Maharlika team a few days before the event, Attorney Soguilon explained to their listeners:
"Statements, recommendations, memorandum, ordinances and laws that are not in-line with the constitution can be questioned in the court. Please remember that whatever order you will be encountering from any government agency, whether from IATF, PNP, DOH, DOLE, etc., if those are violating the constitution, it's wrong and it should be challenged in court…
If you've been pressured or vaccinated without receiving right information about the ingredients or any of your options, as if you've been manipulated into believing that it is your only last option, then you've been deceived."
And talking about why the people's participation matter, especially parents, the lawyer stated:
"We don't want to put our children into risks and we don't want to allow another dengvaxia to happen in which our children have become lab rats. It's not only about us but also for children who are helpless about today's situation. We don't want those things to happen again so it's in our hands; it's up to us to protect the children. That's why we are calling all the parents, if you really love your children, it's time to come out…"
Attorney Arron Soguilon claimed that the IATF (Inter-Agency Task Force for the Management of Emerging Infectious Diseases) have issued a new memorandum or advisory saying that health authorities are planning to soon include children (ages 12 and 17) on the list of recipient for the experimental unsafe Covid vaccine. This, according to the lawyer, could be one of the requirements for getting back on the class face to face. This proposal, as the team claims, is unethical given the fact that there is really no valid reason for health authorities to mandate this on adolescent children as there is no real science backing this idea, even to the aspect of so-called SARS-CoV2 virus isolation and characterization itself.
As many now know, there are already several groups of doctors and scientists filing a case against the World Health Organization (WHO) and all the responsible agencies perpetuating this baseless narrative. It is therefore perfectly valid to demand and question the real scientific data regarding these vaccines without any agencies vanguarding against the people's right to information.
The team has started putting out educational videos since last year. In a series of podcast on Facebook, Attorney Soguilon and the Gising Maharlika volunteers, extensively discussed and answered questions about different issues related to the on-going Covid scam in the Philippines, medical tyranny through unconstitutional and draconian measures, the people's constitutional rights that are clearly being violated, and other aspects related to the victims who are going to file complaints against fraudulent hospital activities and coercion. For months now, the team has been giving assistance to various individuals in terms of filing documents, connecting to the right person and agencies, and many other important matters on how to pursue a case.
Emphasizing that the team will also provide copies to the police and military personnel who are planning to file a complaint,the lawyer also explained that "all of the lawsuits which are going to be filed in the Supreme Court and the SC will find a common ground in which it can justify its decision. And all its rationality will be covered…" He then added:
"So we will make it sure that whatever reasons they have, we will have a case to file to protect our children and our selves…
Let's all participate, this is the right time. Let's all take action for the whole society so that we can protect ourselves. Let's not leave each other behind. We are in this together; we are in the same country. They are very few that's why we need to make a move…
He then appealed to the country's police department:
To our fellow policemen, the opportunity to take action is already in your hands. So now you can do something for our country. If you are dreaming of becoming a hero, this is the right time to take action…"
Indeed, action is very crucial as vaccine rollout is still on-going in many parts of the world despite the fact that government data that are showing the true results of mass Covid vaccination, at home and abroad, are being kept hidden under the rug. And these are being exposed by the team since the beginning. Almost no mainstream news is talking about severe side effects and deaths – no politicians, no famous public figures that's why average Filipinos cannot easily believe stories as such. Zero. And the irony is that they even twist the blame. But these injuries and deaths are happening. In fact, in the US alone, Health Impact News (HIN) has just published yet another data released by the Centers for Disease Control and Prevention (CDC) as of July 9 of this year; data which are purposely ignored by the mainstream news companies. On July 16, Brian Shilhavy of HIN reported:
"The U.S. CDC released more data today in their Vaccine Adverse Event Reporting System (VAERS), a U.S. Government funded database, and now admit that they have received reports of nearly 12,000 deaths during a 7-month period since the COVID-19 shots were given emergency use authorization by the FDA last December. This includes 997 deaths among unborn children, which is separate from the 10,991 deaths recorded where the "patient" (the one getting the shot) died. There are now 551,172 adverse reactions recorded out of 463,457 cases, including 9,274 permanent disabilities, 59,403 emergency room visits, 30,781 hospitalizations, and 8,831 life threatening injuries. You will not find a single corporate media outlet reporting these government statistics, as this has to be the most censored information in the United States."
For those who want to file a complaint and contact the team, direct to:
To watch the whole podcast, go to this link:
More references: