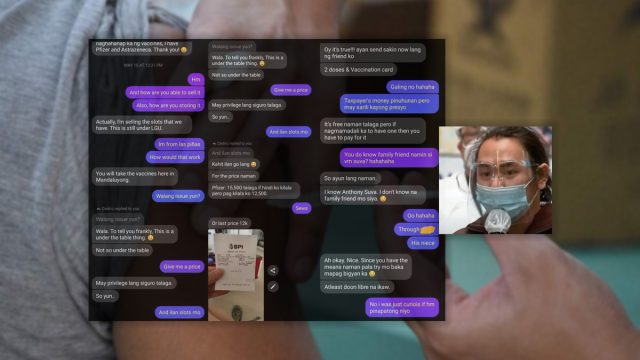 The Philippines' Criminal Investigation and Detection Group (CIDG) finally have the "supposed" vaccine spot seller in their custody.
On May 26, 2021, Mandaluyong's local government unit presented the suspect to the public after his father, a barangay kagawad (village councilor), surrendered him to the authorities.
The same man was the person who was tagged by his classmate, who presumably offered him a slot for the vaccine. That conversation was a screenshot, uploaded on Twitter and Facebook websites, then gaining the attention of the media and officials.
Mandaluyong's Mayor Menchie Abalos and her husband, Benhur Abalos, Metropolitan Manila Development Authority chairman, presented the supposed suspect of the "vaccine for sale" plot, Cyle Bonifacio exhibited to the media.
Mayor Abalos said;
"Noong gabi tumawag sa akin yung father and told me "Ma'am, anak ko po yung hinahanap niyo."
"The suspect's father called me last night and told me, "Ma'am, it's my son whom you're looking for."
Mayor Menchie added that the father was oblivious to his son's activities until the police visited him.
Cyle Bonifacio maintains he is confident of his innocence of any deed in the briefing and denies any connection with the local government units.
"Hindi po ako talaga ang nagbenta."
("I'm not to one who sells [the vaccines].")
He did, however, mentioned that a specific individual did give him a receipt of the transaction. When he was asked who that person was, Cyle answered:
"Pwede ko pong hindi sagutin yung mga tanong ninyo. I have the right to remain silent."
Cyle Bonifacio assumes all accountability and states his father is innocent. Bonifacio will undergo medical examinations, and the CIDG will continue the investigation on the matter.
Full video here: