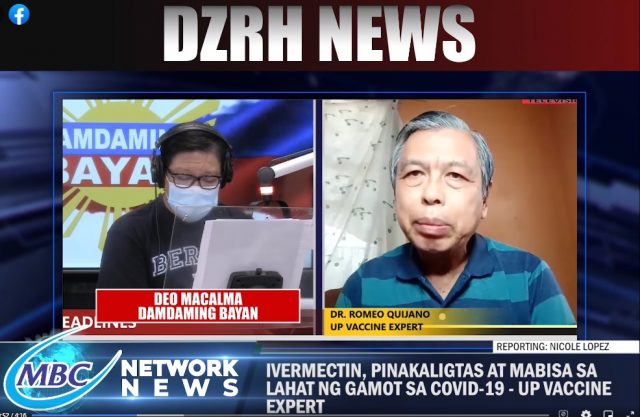 On April 30, the DZRH News Television released its interview with pharmacologist and UP vaccine expert Dr. Romeo Quijano, agreeing that Ivermectin (IVM) is based on scientific data. It is safe and effective to consume.
"Malinaw yung siyentipikong ebidensya na ligtas yan at mabisa. Kasaysayan ng gamot na yan na mahigit nang tatlong-pong taon naipakita na na mas ligtas pa yan kesa sa mga gamot na over-the-counter tulad ng paracetamol.

Maraming dekalidad na clinical studies, tulad ng randomized clinical trial na sinabi nilang pamantayan kung mabisa at epektibo ang gamot, ay marami ng ginawa. Mahigit limangpo na ang nagawang clinical trials at malinaw po ang ebidensya gawa ng mga independent na eksperto kasama na ang eksperto na nag a-advise sa WHO."
Then why is there so much censorship and smear campaign circulating the "wonder drug"?
Dr. Quijano believes that the major pharmaceutical companies are influencing such attacks as they see the drug as a competition against their pharmaceutical products and vaccines.
"Ang tingin ko malakas ang impluwensya ng malalaking kumpanya ng mga gamot. Ginagamit pa nga nilang dahilan yung statement ng MERCK, yung original na nagbebenta ng Ivermectin na wala daw'ng bisa."

"Eh ngayon may mga bagong gamot ang MERCK na magiging kumpetisyon ang Ivermectin, Molnupiravir na anti-viral din."
"Kung papayagan ang Ivermectin, malaking banta yun sa kikitain nila. Kaya itinatakwil na nila (Ivermectin) na wala ng patente, kaya mas mura at kahit sino pwede ng gumawa."
What does Dr. Quijano think of the suggested clinical trials here in the Philippines?
"Delaying tactics lang yan eh. Actually, unethical yan (clinical trials). Kung wala sanang emergency pwede sanang hintayin yan. Pero kung may emergency, di mo na pwedeng hintayin yan!"
DOST initially stated that they will no longer require clinical trials for Ivermectin in the country. However, President Duterte asked to pursue the trials, thus, DOST submitted to the request.
Here's the full interview of Dr. Quijano's on DZRH News Television:
[Romeo F. Quijano, M.D. is a retired professor of the Department of Pharmacology and Toxicology, College of Medicine, University of the Philippines Manila. He is president of Pesticide Action Network (PAN) – Philippines. He served as the co-chair of the International POPs Elimination Network, bureau member of the International Assessment of Agricultural Science and Technology for Development, and as a standing committee member of the Intergovernmental Forum on Chemical Safety. He is regarded as one of the country's leading toxicologists.]
SOURCE: https://albagranadanorthafrica.wordpress.com/2020/11/22/vaccination-most-deceptive-tool-of-imperialism-by-dr-romeo-f-quijano/