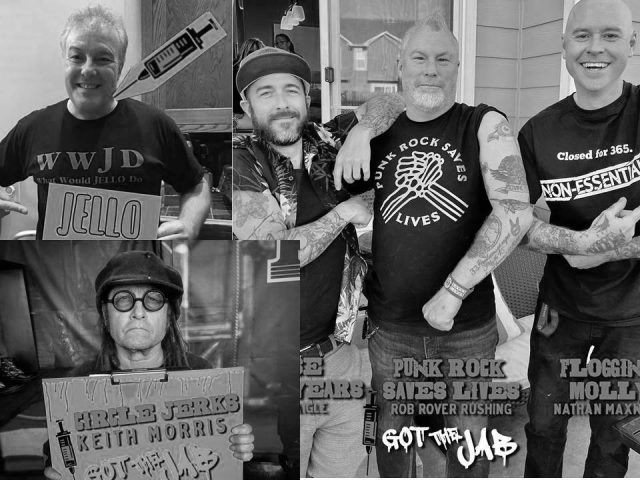 Despite so many warnings from experts, scientists and medical professionals, some famous members of punk bands got their shot and even encourage other members of the punk "community" to do the same. Among the very known punk musicians who took their shot are Jello Biafra (Dead Kennedys), Keith Morris (Circle Jerks), Jim Lindberg (Pennywise), Patti Smith, Joan Jett, Branden Steineckert (rancid), and Fat Mike (NOFX). On a campaign called "Punks Got the Jab" in which members of punk bands post their photos on Punk Rock Bowling page, proudly showing that they're already vaccinated.
As posted in PRB's Facebook page:
PSA: PUNKS ARE GETTING VAXED
More and more of our Punk family from around the world are stepping up and getting the jab so that we can all get back to what we love, LIVE MUSIC!
We have chosen to get vaccinated, not because of politics, but rather science and because we want to get back to work and help keep our scene alive.
On behalf of the Punk community, we encourage you to get the Covid-19 vaccine when it's available to you and to be a part of the solution and not contribute to the problem.
Thanks for all those doing their part!
Meanwhile, Jello Biafra uploaded a short video of his inoculation session, stating:
"Finally got in for shot number one, and you should too! Sorry anti-vaxxers, sorry Robert Kennedy Jr., if there ever was a gamble worth taking, this is it. Go!"
Jello Biafra was correct, it is a gamble. It's a gamble because everybody knows that the virus (SARS-NCov2) has never been isolated and that this experimental mRNA vaccine specifically created for that has never been found to be safe and effective on its initial trials. In fact, it cannot be approved that's why the FDA put it under the emergency use authorization. Therefore it's reasonable that hundreds, if not thousands, of doctors and scientists have issued a warning, with all the scientific explanation possible, not to take this jab. These experts have name and definitely would be easy to fact-check their claims and dig their backgrounds to see who they are really vested to. Unfortunately, it seems that these punk musicians did not try to do that kind of DIY research. Seemingly, they blindly trusted the so-called "science" as if it's an absolute religious dogma that cannot be questioned. And besides, is this thing called science only accessible to believers and manufacturers of vaccines?
On December last year, former Pfizer Vice President and Chief Science Officer Dr. Mike Yeadon joined Dr. Wolfgang Wodarg, a prominent German physician and past head of a local public health department, in petitioning for the "immediate suspension of all COVID-19 vaccine studies in Europe". The two experts filed a petition with agency that is responsible for approving drugs in the European Union, the European Medicines Agency (EMA), due to important safety concerns. This attempt, however, was dismissed by EMA. Just less than two months after, various countries, mostly European, have issued the suspension due to serious adverse reactions, mostly related to blood clots. And on the 1st of April, Dr. Mike Yeadon, together with Doctors for COVID Ethics issued an open rebuttal letter to EMA. Dr. Yeadon stated on the news:
"So today, we've issued a detailed rebuttal and show beyond reasonable doubt that vaccination of the entire population is not only unethical, but is predictably leading to substantial loss of life, tragically mostly in people not at any risk from COVID-19, at this time young healthy females aged 20-50."
On the last part of the letter, the signing experts stated:
"For the avoidance of doubt, if your regulatory body does not immediately suspend its "emergency" recommendation of potentially dangerous inadequately tested gene-based "vaccines", while the matters which we have highlighted to you are properly investigated, we hereby put the European Medicines Agency on notice of being complicit in medical experimentation, in violation of the Nuremberg Code, which thereby constitutes the commission of crimes against humanity.
Furthermore, it is your indirigible duty as a regulatory body to ensure that all doctors worldwide are advised that they are taking part in medical experimentation via "vaccination" programmes, whether wittingly or unwittingly, with all the legal and ethical obligations that such involvement entails."
Meanwhile, on its April 10th report, the European database of suspected drug reaction that also tracks reports of injuries and deaths following the experimental COVID-19 vaccines (EudraVigilance) lists 6,662 deaths and 299,065 injuries following injections of four COVID-19 shots from Pfizer-BioNTech, Moderna, Johnson&Johnson, and AstraZeneca. These incidents of injuries, hospitalization, and death due to blood clot have been reported around the world.
References: