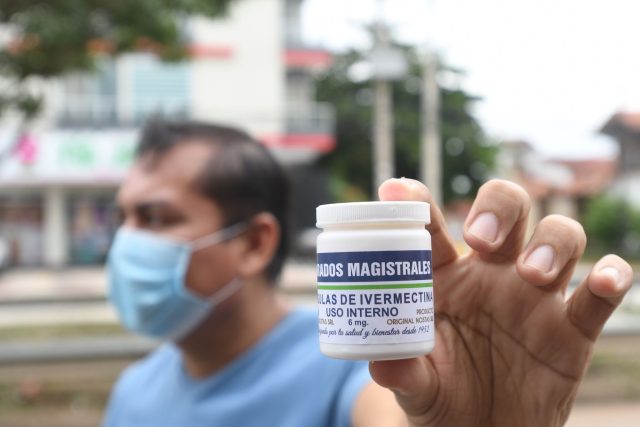 As more and more Filipinos from all walks of life are now expressing their hesitancy and sometimes hostility towards the vaccination scheme by the government, a rumour circulated around social media that the president of the Philippines has urged the country's Department of Health (DOH) and the Food and Drug Administration (FDA) to take action and make an investigation regarding the potential contribution of Ivermectin, an anti-parasitic drug being used on humans for more than four decades, in dealing with the current crisis. The presidential spokesperson, however, denied the rumour saying that that said meeting with the president was not really about investigating the use of Ivermectin.
This followed when On March 26, the DOH warned doctors about the use of Ivermectin for Covid-19, saying that their names will be submitted to the Professional Regulation Commission (PRC) and that they may have their licenses revoked if proven "guilty". According to the agency, "the FDA has only evaluated Ivermectin's safety and efficacy for animal use" and that "using the product in humans can cause serious harm".
However, contrary to the statement of the DOH, the Concerned Doctors and Citizens of the Philippines (CDCPh), along with scientists and doctors from different parts of the world, claimed that Ivermectin has grade intended for humans and that its use for Covid-19 treatment already has "48 trials involving 375 scientists". Dr. Iggy Agbayani, the president of CDCPh, even stated that "22 percent of the world is already using Ivermectin to successfully fight COVID-19"; including in India, Middle East, Europe, and Latin American countries. In addition, the meta-analysis on these studies also concluded that this drug is indeed "effective as prophylaxis, early treatment, and late treatment".
Meanwhile, the website tracking and reporting the Ivermectin studies ivmmeta.com also posted:
"100% of the 50 studies to date report positive effects (25 statistically significant in isolation). Random effects meta-analysis for early treatment and pooled effects shows an 81% reduction, RR 0.19 [0.09-0.38], and prophylactic use shows 89% improvement, RR 0.11 [0.06-0.22]. Mortality results show 76% lower mortality, RR 0.24 [0.14-0.42] for all treatment delays, and 84% lower, RR 0.16 [0.04-0.63] for early treatment. 100% of the 26 Randomized Controlled Trials (RCTs) report positive effects, with an estimated 70% improvement, RR 0.30 [0.20-0.46]."
Therefor a few days after the DOH's devastating announcement, various groups, including business owners, lawyers, doctors, and politicians sent a joint letter of appeal not only to the president but also to Senate President Vicente Sotto III and Speaker Lord Allan Velasco for the use of Ivermectin as an emergency drug for the alleged viral disease Covid-19.
Aside from asking Congress to "pass the appropriate legislation or resolution to expedite the availability of and easy access to Ivermectin by the masses", the petitioners also requested:
"Concretely, we respectfully request the President to direct the Food and Drug Administration (FDA), Department of Health (DOH), and the Department of Science and Technology (DOST) to: 1) Pro-actively look into the credible testimonials of a substantial number of Filipinos, including well-known members of Philippine society, and on the studies of several local and foreign medical researchers on the efficacy and safety of Ivermectin in preventing and treating COVID-19 cases; and 2) Issue the appropriate permit or authority to persons, natural or artificial, to manufacture, compound, import, distribute and sell Ivermectin…"
The letter cited the following policies declared in the 1987 Constitution for its legal grounds:
"1) Protection and promotion of the right to health of the people (Sec.15, Article II); 2) Respect for the role of independent people's organizations to enable the people to pursue and protect their legitimate and collective interests and aspirations (Sec.15, Article XIII); and 3) The right of the people and their organizations to effective and reasonable participation at all levels of social, political and economic decision-making."
Following this, the petition letter then stated:
"There are well-founded reasons to believe that Ivermectin, repurposed as a human-grade drug to prevent and treat COVID-19 cases, will do much good based on widespread testimonials and studies made on Ivermectin."
Meanwhile, according to Dr. Allan Landrito, the scientist who compounds Ivermectin in the country and who is also a big proponent of the drug's use:
"What was proven and can be fact-checked in literatures is that Ivermectin does not alter normal biochemistry. So it doesn't affect the normal biochemistry of the human body. It only affects the biochemistry of the parasites such as invertebrates, arthropods, protozoa, and even mosquitos, insects…those are the only things it can affect but not the human biochemistry that's why it can be administered to patients even with different conditions."
Dr. Landrito also added that he already dispensed Ivermectin to more than 8,000 patients in Manila and "that there was no single adverse reaction or severe side effects reported except for a very mild one". He then testified that his method, backed by clinical literatures, "was very successful". What's more interesting is that Ivermectin only costs 35 Php per capsule and usually only to be administered once a week for early treatment while Remdesivir, the current drug being used for Covid in the country, costs around P28,000 per vial and must be administered twice daily until the patient is discharged from the hospital.
It's beyond any argument that the Remdesivir is not a practical choice for Filipinos therefore with this very cheap and effective solution, there is no excuse for the government and the DOH to prohibit its use unless they really don't want to fix the country's crisis. As the country's capital cities are currently under hard lockdown affecting even the provinces, leaving many poor people more immobilized and distressed due to curfews and many unnecessary protocols that further discriminate them, the country's economy continues to plummet and many people still clamour for help from poverty and hunger because of this global medical scam.
References: