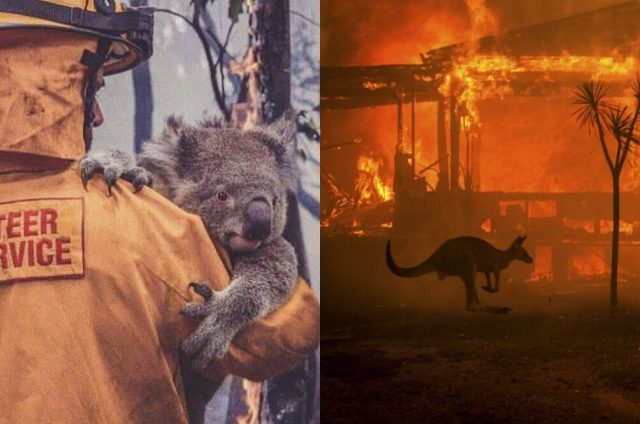 In New South Wales (NSW) and Victoria, tens of thousands of people became homeless as fires devastated the forests and woodlands of the area, devouring every landscape on its way, burning millions of animals including birds, reptiles, beneficial insects, and other wildlife species of Australia. The phenomena is considered as the worst bushfire in history which forced residents to flee from their homes, turning Australia's flora and fauna into ashes on a super massive scale in just about less than four months. The fire was said to have started since September of last year and many experts claimed it's because Australia is so dry at the moment that's why firefighters and other groups in general are struggling to solve the problem.
Some people even flee to shorelines as raging fires, currently said to have burned more than 12 million acres of land, reached their houses. In different parts of Australia, "tornado fires" were also captured through videos while native animals such as Kangaroos and Koalas and most especially species that live or depend on trees were being affected by the blazing fire in a very alarming rate. Some communities even reported to have seen animals randomly falling from trees and some farmers reported that their livestock were also gone because of fire. As of the moment, death toll all over Australia has reached 18 while hundreds of houses burnt to the ground.
In different news reports, various wildlife and environmental organizations have called for immediate response to protect Australia's native animals especially Koalas. This is due to Koalas capacity for survival from catastrophes like this. They move very slowly and their bodies are very susceptible to fires because of their diet, the leaves of eucalyptus tree, which is mainly composed of oil. It was reported that there were approximately up to 8,000 Koalas, in NSW alone, killed since the beginning of this wildfire. An animal rescue unit also reported that animals they have saved were less than they expected and this causes them to worry as many of those animals could possibly be dead and cannot be found because of the combustion. Many people were also troubled by the possibility that most of these native animals and plant species were possibly wiped out forever.
"The fires have burned so hot and so fast that there has been 'significant mortality' of animals, particularly in the trees. And also, there is such a big area now that is still on fire and still burning that we will probably never find the bodies."
This is what Mark Graham, a Nature Conservation Council ecologist, has said to the parliament.
Meanwhile, according to Australia's environment minister, Sussan Ley, there were up to 30% of wildlife habitat destroyed and this figure could still increase when the fire is totally stopped. It is estimated that there are around half-a-billion animals believed to be dead because of the fire. Meanwhile, some animal hospitals were also said to have been struggling to facilitate more rescue operations due to the number of victims and they are also worried that many of these animals rescued and nursed will have no habitats to return to and will have difficulty finding foods to eat and places for shelter as most of those were terribly destroyed by still currently ravaging fires. As of the moment, military aircrafts and ships are still being deployed to rescue and provide foods to thousands of stranded communities that were badly affected by the disaster. As of now, sad to say many officials still claim that there is no indication yet that the fire will stop soon.
Sources: