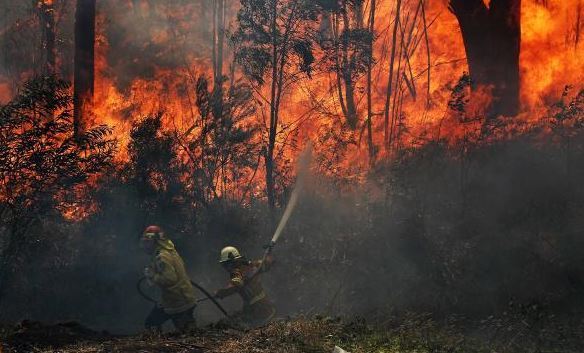 Catastrophic fire conditions declared in Australia as bush-fires continue to wreak havoc in different cities and towns of the country, leaving some residents dead and injured, including firefighters and volunteers. The fire, devouring homes and properties, has been said to have started in late August of this year around the east coast of Australia, including Central and South Eastern Queensland and some parts of New South Wales. Unfortunately, the fire later destroyed more than 3,000,000 hectares of area, burning hundreds of houses, and killed several people.
Along with this, temperatures in NSW have also worsened because of the bush-fires, pushing the government to declare a state of calamity. In connection to this, citizens protested because the Australian government decided to cut the funding to fire services regardless of the warnings made by fire officials to be prepared for this very worst fire season. In addition, people's anger has also fueled more protest as Prime Minister Scott Morrison decided to take a holiday despite of the on-going tragedy in the country. These situations, along with the worsening fires in different parts of the state, have created more controversies regarding the government's leadership and its disaster preparedness.
In NSW, there have been almost 3,000 firefighters battling the fires and 90 percent of these firefighters are unpaid volunteers facing the dangers intensified by strong winds, dryness, and low humidity. Despite the holiday rush, police are warning the people to not use the affected roads, public highways, and other transportation facilities as of the moment while the fire continues to burn the areas within the blazing towns and cities; including some parts of Victoria and Sydney. It has also been reported that two people have died in South Australia due to this tragic situation while 23 firefighters have also been injured. Among those that were badly destroyed by the fire were 3 trucks, 28 buildings, 16 private vehicles and 5 homes. These numbers are expected to rise given that fire still continues to run.
In some places, terrains are inaccessible, causing the fires to progress immediately and to merge into large ones. The fires continue to grow, sometimes rising in huge amount by overnight, creating its own weather around its affected areas. In connection to this on-going disaster, the prime minister apologized to the Australian citizens for the holiday, returning earlier than the planned schedule. This fire crisis, coupled with unusual heat-wave, has affected around 10,000 people in Sydney, forcing these residents to evacuate the area. However, Australian governments are doing its best to control and to contain the fires in any possible ways.
Sources: