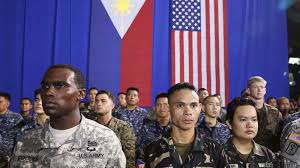 MANILA — The Philippine and United States governments, in a high-level discussion, have reaffirmed firm resolve to bolster their enduring alliance anchored on common interest and the Mutual Defense Treaty, the Department of Foreign Affairs (DFA) said Sunday.
The MDT, signed in 1951, contains eight articles stipulating that both parties would provide each other aid in case of an armed attack against either Washington or Manila by an external party.
As per the agency, a high-level delegation led by Executive Secretary Salvador Medialdea had "productive discussions" on critical regional and international issues with US Pacific Command (PACOM) chief Admiral Harry Harris Jr. and the commanders of all PACOM service components in Honolulu Sunday.
"The Philippine Delegation had a very substantive exchange with Admiral Harris on regional challenges and both sides agreed that the alliance remains consequential to the preservation of regional stability and development," the DFA, through Acting Assistant Secretary Elmer Cato said.
At the meeting, Medialdea was joined by DFA by Secretary Alan Peter Cayetano, Defense Secretary Delfin Lorenzana, Interior and Local Government OIC-Secretary Eduardo Año, Philippine Ambassador to the US Jose Manuel Romualdez, and Permanent Representative to the United Nations Teodoro Locsin Jr.
On the South China Sea issue, the Philippine delegation underscored that the "deliberate and nuanced diplomacy" of the current administration had lowered tensions in the region and resulted in clear economic gains for the country.
This, in terms of access to marine resources, protection of the marine ecology, and the potential to explore oil and gas resources.
On Saturday, People's Daily, the official news organization of the Communist Party of China, posted a video on its Twitter account showing Chinese bombers, including a long-range H-6K bomber, landing and taking off on an island reef in a "southern sea area."
According to Asia Maritime Transparency Initiative, Manila, including five Philippine military bases earmarked for development under the Philippine-US Enhanced Defense Cooperation Agreement, fall within the radius of these bombers.
As of posting, the DFA has yet to issue a statement.
Meanwhile, on counter-terrorism cooperation between Washington and Manila, both sides agreed on the need to work closer, including in the exchange of information.
The DFA said Harris congratulated the Philippines on its decisive victory in Marawi.
The Philippine delegation for its part expressed gratitude for Washington's strong support in this effort, which was instrumental in the successful campaign.
Harris has led the PACOM since May 2015 and has actively worked to strengthen Philippine-US security relations including through his role as the co-chair of the Mutual Defense Board-Security Engagement Board.
Following his retirement in June, the White House announced his appointment as the next US Ambassador to South Korea.
For his role in promoting Philippine-US defense cooperation, the Admiral was recently conferred the Philippine Legion of Honor, the order of defense merit of the Philippines. (PNA)By Joyce Ann L. Rocamora
[zombify_post]