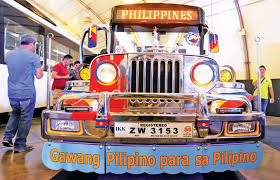 MANILA — Operators of modern public utility jeepneys (PUJs) have filed a petition before the Land Transportation Franchising and Regulatory (LTFRB) seeking for a PHP2 fare increase and a PHP1 "surge price" during rush hours amid the recent hikes in oil prices.
The operators who are plying routes in Marikina and Quezon City have asked that the fare hikes for non-airconditioned jeepneys be increased from PHP8 to PHP10 and PHP12 from PHP10 for airconditioned jeepney units.
A proposed rush hour rate of PHP1 will be imposed from 5 a.m.- 8 a.m. and 5 p.m.- 8 p.m.
The petitioners who have modernized their fleets and are using Euro 4 compliant jeepneys said a fare increase is urgent to recoup their operating expenses in compliance with the Public Utility Vehicle Modernization Program (PUVMP) and to mitigate the impact of recent oil price hikes and the implementation of the Tax Reform for Acceleration and Inclusion (TRAIN) Law.
"The increase in the cost of operations brought about by increasing market prices, the cost of compliance with the Omnibus Franchising Guidelines, and the effects of the TRAIN law on vital transport supplies and equipment have threatened the viability of the Public Utility Vehicle Modernization Program (PUVMP)," the PUJ operators said in their petition filed before the LTFRB last Wednesday.
The LTFRB said it will be consulting with the National Economic Development Authority (NEDA) once it conducts a hearing on the fare hike petition.
"The fare hike has a social impact. If ever we will schedule this for hearing kailangan po kasama namin ang NEDA dito to guide us regarding its impact," LTFRB Board Member Aileen Lizada said in a radio interview.
If the fare hike is approved, Lizada said this might lead to other denominations such as public utility buses and taxis to ask for similar demands.
"We have not seen this before (surge prices for modern jeepneys). If you grant that to one denomination, you have to study that on other denominations as well," she said.
The PUVMP seeks to replace jeepney units that are 15 years old with Euro 4 engines or electrically-powered engines with solar panels for roofs. These modern PUVs will also be equipped with closed-circuit television cameras, a GPS navigation system, an Automatic Fare Collection System, speed limiters, dashboard cameras, and Wifi. (PNA)
By Aerol John Pateña
[zombify_post]