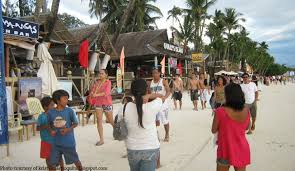 MANILA — The government is making headway in addressing Boracay Island's woes on encroachment in wetlands, forest land, and easements nearly a month after the shutdown of this top tourist destination began.
"Wetlands and forest land are being monitored with the relocation of boundaries almost completed," Environment Secretary Roy Cimatu said in his Boracay clean-up and rehabilitation update released Friday.
Cimatu said about 40 percent of the 842 forest land occupants in the island had been given notice to vacate their areas.
He said the interagency task force assigned to clean up Boracay is also recovering the monuments previously placed there by the National Mapping and Resource Information Authority to mark the 30-meter no-building easement guide and, thus, identify the structures to be affected by the cleanup.
"There were also 206 establishments issued with show cause orders," the environment chief added.
A show cause order requires a party to explain why the government must not take certain action against it.
Marking boundaries of wetlands, forest land, and easements aims to define these areas to prevent encroachment in the future.
Cimatu said the clearing operations of the public works department and the Aklan provincial government have also begun along Boracay's main road.
"Road easements are being monitored," he said. "Some of the updates include demolishing 100 percent of structures from Cagban to Rotonda Road. There's ongoing demolition along the main road."
Cimatu noted that some owners of structures encroaching on road easements had opted to demolish these themselves.
"I'm pleased to note the positive response of locals to the rehabilitation efforts, as it redounds to enormous benefits not only to them but also to the environment," he said.
Various agencies continue working on saving Boracay from further deterioration, he added.
Cimatu is heading the inter-agency task force created by President Rodrigo Duterte through Executive Order 53 this year to reverse the environmental degradation in Boracay Island.
The government has subjected the famed tourist spot to a six-month closure period to speed its rehabilitation.
Encroachment on wetlands, forest land, and easements is one of the major environmental problems in Boracay, aside from water pollution and mounting solid waste. (PNA)
By Catherine Teves
[zombify_post]