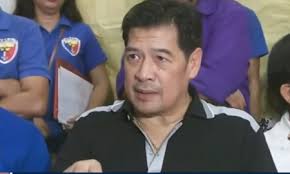 MANILA — Department of the Interior and Local Government (DILG) Undersecretary for Barangay Affairs Martin Diño on Friday dared the winning barangay (village) officials to lead the campaign against illegal drug use.
"Icha-challenge ko ang mga nanalong barangay officials na nasa narco-list na manguna sila sa laban sa kontra droga sa inyong barangay (I'm challenging the winning barangay officials who were in the narco-list to lead the fight against illegal drugs in their respective barangays)," he told a media forum at the DILG.
Diño, who was barangay captain of Barangay San Antonio, Quezon City for 13 years, has been a staunch advocate in fighting illegal drugs, corruption and criminality in his community.
"Hindi lang illegal drugs, ang inyong trabaho, pati sa illegal parking, pati sa sidewalks (Your job does not only involve the drive against illegal drugs, but illegal parking and the sidewalks as well)," he added.
The DILG has recently filed administrative charges against 15 barangay captains for their failure to establish their respective Barangay Anti-Drug Abuse Councils (BADACs).
It has also filed criminal charges against a barangay captain in Malabon City for alleged involvement in illegal drugs in his own barangay.
Diño also blamed the village officials in Malay, Aklan for the environmental destruction of the world-renowned Boracay Island.
"Kagaya ng nangyari sa Boracay, kasalanan ng kapitan. Dapat inayos nila ang estero at sewerage system sa kanilang barangay (Just like what happened in Boracay, it was the fault of the barangay captain. They should have fixed the drainage and sewerage system in their barangay)," he said.
At the same time, the DILG official reminded the outgoing barangay officials that their job is not yet over.
"Kayong natalong kandidato, hindi pa tapos ang serbisyo nyo. Maging aktibo kayo sa barangay n'yo (You, losing candidates, your service is not yet finished. Be active in your barangay)," Diño said. (PNA)
By Perfecto Raymundo, Jr
[zombify_post]