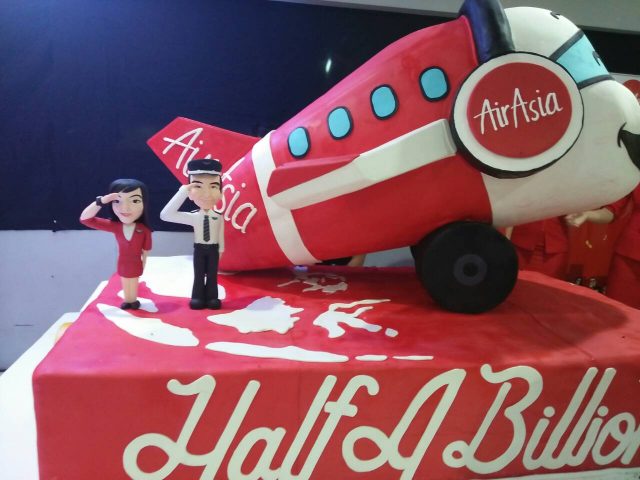 MANILA — Malaysian budget airline AirAsia Group plans to more than double its fleet of 220 airplanes in 15 years, boosting its confidence to reach its two-billion passenger mark by then, AirAsia Philippines chief executive officer (CEO) Dexter Comendador disclosed to the Philippine News Agency (PNA) Friday.
"(The group) targets to have a total of 520 planes in the next 15 years, so we're confident that we could reach that another one billion mark," Comendador said.
On May 18, AirAsia Philippines celebrated the airline's half a billion passenger mark at the Ninoy Aquino International Airport (NAIA) Terminal 3.
Two huge cakes were placed at the airport to mark the celebration, while all passengers at the Manila airport were free to get a slice or two.
Comendador said AirAsia Philippines' 500 millionth passenger, a Thai national, was awarded in Bangkok last May 15.
"Air Asia (Group) CEO Tony Fernandes wanted to give that passenger three million '(big) points', but he decided to give a lifetime free travel for him and his wife," the airline official said.
The lucky passenger was Panut Oprasertsawat, who flew from Phuket to Bangkok on March 18.
Comendador said Oprasertsawat could use the free travel no matter how frequent he wants, in any of Air Asia's routes.
He also clarified that although the 500 millionth passenger was not from the Philippines, it was celebrated here because AirAsia is a group. "We act as a group. That's also why you wouldn't see in our logo 'AirAsia Philippines' or 'AirAsia Malaysia', for instance," he explained.
The 500 millionth passenger count was from the group's passengers since it began in 2001.
Comendador said the group awards every 100 millionth passenger.
"We target to reach another one billion passenger, five or seven years from now," he added.
Early this month, the Department of Budget and Management (DBM) signed a Government Fares Agreement (GFA) with AirAsia Philippines to give Philippine government employees 8 percent to 9 percent discounts on their official domestic flights.
The agreement with Air Asia is the third one to be forged by the government, following earlier GFAs with Philippine Airlines and Cebu Pacific last year.
Under the deals, the government had saved PHP19.5 million as of the end of 2017, the DBM said. (PNA)
By Ma. Cristina Arayata
[zombify_post]